Editorial: Health care is not a 'choice'
wu_c170307.jpg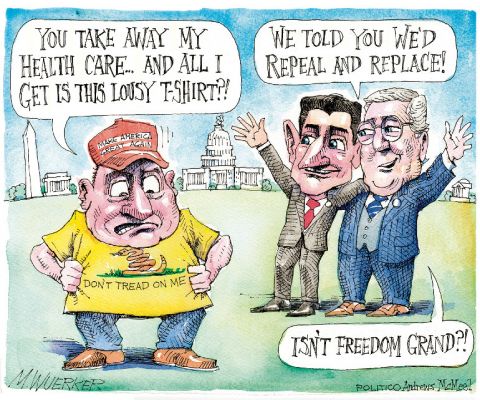 Editorial
The Donald Trump administration and Republican leadership of the House of Representatives are trying to rush through Congress their long-promised replacement legislation for the Patient Protection and Affordable Care Act of 2010, President Barack Obama's signature legislation. They are rushing it in the hopes that people won't look at it too closely, because the closer people look the more they realize that the American Health Care Act isn't just bad legislation, it is unjust. If passed in its current form, it will cause irreparable harm to our nation's common good. It will hurt us all.
The evaluation of the bill by the nonpartisan Congressional Budget Office released March 13 confirms what many independent analysts and commentators had been saying since the GOP legislation was introduced March 6. Kaiser Health News, a nonprofit news service that covers health care policy and politics, offers a useful summary of the budget office's assessment. The highlights:
Fourteen million people would lose insurance coverage in 2018, and 24 million people would be added to the ranks of the uninsured within a decade. By 2026, 52 million Americans would not have health insurance.
Because the law eliminates the mandate for insurance, monthly premiums would initially increase 15 to 20 percent. Average premiums would begin to drop, perhaps by as much as 10 percent by 2026, primarily because premiums would likely drop for younger people. However, the budget office report says the law would "substantially [raise] premiums for older people."
Federal Medicaid spending would drop $880 billion over the decade, primarily because the law caps federal contributions to the program.
Consequently, 14 million fewer people will enroll in Medicaid by 2026, a 17 percent drop in participation.
The GOP bill, like the Affordable Care Act, has advanceable, refundable tax credits. The difference is that the current credits are indexed to income; under the proposed law, tax credits increase with age, from $2,000 for youngest adults to $4,000 for older adults.
The proposed law eliminates subsidies the Affordable Care Act provides people to help pay their deductibles and coinsurance or copays.
The federal deficit would be reduced by $337 billion over the next decade, but federal revenue would lose $592 billion over that same period as several taxes that the Affordable Care Act created to help pay for more people to get insurance are repealed — notably taxes on high-income Americans, hospitals and health insurers.
In short, millions of African-Americans, Latinos and Native Americans, rural families, seniors, children and women who now have affordable health insurance will lose it, and the working poor will be priced out of the market.
The Republican leadership pushing this legislation are telling three lies. They say the new bill will give greater access to health care and will lower costs. Neither of these is true. Numerous analyses refute these claims, and to date, the Republicans' only response is to continue to assert their claims and ask people to believe them. The evaluation by the Congressional Budget Office is making it harder for all but the staunchest conservative and libertarian ideologues to maintain this defense strategy. But they will keep trying.
The last lie they tell, and it is perhaps the most insidious, is that they are giving people more choice. Again, the budget office and independent analysis show that eliminating people from programs and pricing them out of the market does not increase choice. The pretense of choice is maintained, gloried in fact, which is why talk of choice is so insidious: It creates a false notion of how the common good can best be served.
Saying that health coverage is a consumer choice makes health care a commodity, something that can be traded, bartered or sold on the open market. Catholic social teaching is clear that health care is not a commodity; it is not a bundle of services available to the highest bidder. Health care is a fundamental human right — Pope Francis and Pope Benedict XVI used those very words — alongside water, food and education. Providing health care is among those rights that the Compendium of the Social Doctrine of the Church says "every nation is required in duty to make towards a true worldwide cooperation for the common good of the whole of humanity and for future generations."
Providing health care to our citizens isn't a matter of choice, it is a duty, an obligation. Allowing this notion of "choice" to dominate conversations around health care is not in our best national interests. Let's not forget that the American Health Care Act is just the first part of a multipart Republican agenda. Current legislation is being advanced under rules governing budget reconciliation bills, so two aspects of the GOP agenda will be taken up later: eliminating mandates in the Affordable Care Act and cutting regulations.
The Affordable Care Act set up 10 categories of "essential health benefits" that all insurance plans must cover, like maternity coverage and mental health services. When we frame our discussion around "choice," those mandates will be eliminated for all but the wealthiest. Before the Affordable Care Act, only 12 percent of plans on the individual market provided maternity coverage, and optional maternity riders could cost as much as $1,000 per month. Can a church dedicated to protecting pre-born life support that kind of choice?
Do you think that can't happen? "We're going to repeal ObamaCare once and for all, and eliminate its mandates, taxes, and intrusion into your businesses and your lives," Vice President Mike Pence tweeted Feb. 24. As part of its rebuttal to the Congressional Budget Office report, the White House issued a statement March 14 that said: "President Donald J. Trump is committed to delivering relief to Americans struggling under the weight of Obamacare's rising prices and onerous mandates."
The Senate March 13 confirmed Seema Verma, a close associate of Pence who helped overhaul Indiana's Medicaid program, as top administrator of the Centers for Medicare and Medicaid Services. At her confirmation hearings Feb. 16, Verma said that she does not necessarily support keeping maternity care as a requirement for insurance plans. "Women have to make the decisions that work best for them and their family," she said at her hearing. "Some women might want maternity coverage, and some women might not want it." That is health care as a commodity.
We have to have a health care system that works, that serves all people. The plan that Trump, Pence and House Speaker Ryan are pushing won't do that. Once the American Health Care Act is stopped, we can begin a national discussion on fixing health care so that it will serve all Americans. But we must make sure that discussion is informed not by false notions of choice but by morals and values that put the needs of our most vulnerable people at its center.
---
Join the Conversation
Send your thoughts and reactions to Letters to the Editor. Learn more here [1]