John.jpg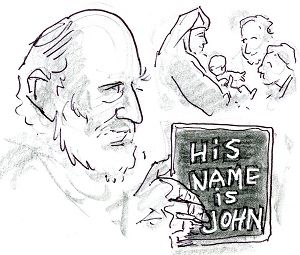 "The Lord called me from birth, from my mother's womb he gave me my name" (Isaiah 49:1).
Isa 49:1-6; Acts 13:22-36; Luke 1:57-66, 80
It has been said that a human life is like a sentence: We don't know its full meaning until the last word has been said.
The trajectory of each life from birth is often indiscernible until its course is complete. Then we can look back and see how preference, vision and purpose guided that life to its goal. This is why the last chapter of a life is spent summarizing our experiences. How many people come to know themselves only at the end of the story they have written over the years.
Both John the Baptist and Jesus had relatively short lives cut short by violent deaths. John's birth to older parents stirred wonder and posed the question, "What will this child be?" We meet him 30 years later, a desert prophet, a voice in the wilderness whose purpose is to announce the coming of Jesus. 
Yet we can imagine him as a child, or as an adolescent struggling with other voices in the wind and in the sacred scriptures, preparing him to be the one who prepares the way for God's promised Messiah. 
The baptism of repentance John offers in the Jordan draws Jesus down from Galilee to begin his ministry of grace. No sooner does John complete his mission to point to Jesus than he is swept up in the paranoia of Herod Antipas and beheaded.
At this event, Jesus withdraws with his disciples to grieve and absorb the reality that his own mission will end in violent opposition, suffering and death.  John's last gift to Jesus will be the question from prison: "Are you the one?"  Jesus defines himself by the works that reveal the coming of God's kingdom on earth: The blind see, cripples walk, sinners are shown mercy.
What is the meaning of your life? Like Jesus and John, we know ourselves by first listening to the Word and to the voice of God in our experiences.  There is no other trajectory than this one, and it will guide us to eternal life.
Reprinted from 2015