Italian rabbis accuse biblical conference of fueling anti-Judaism
webRNS-ITALY-JEWS-031417.jpg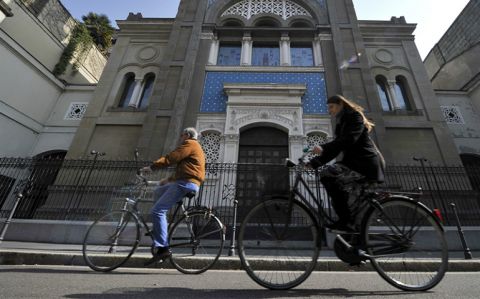 Rome — Two leading Italian rabbis have accused a Bible organization of promoting anti-Semitism by inviting scholars to debate the roots of Judaism at a Venice conference.
The theological conference, organized by the Italian Biblical Association, is titled "People of a 'Jealous God': Coherence and Ambivalence of the Ancient Religion of Israel" and will be held in September.
Rabbi Giuseppe Laras, emeritus president of Italy's Rabbinical Assembly and former chief rabbi of Milan, has released a letter sent to conference organizers in which he accused them of promoting intolerance and resentment of Judaism.
The conference will examine the role of the Hebrew God, Yahweh, in the evolution of faith and examine elements of the Torah and Jewish and Muslim philosophy, before looking at elements of the Bible's New Testament.
In his letter, Laras described the program as a "defeat" for Jewish-Christian dialogue.
He said the scheduled topics revealed an undercurrent of "resentment, intolerance, and annoyance" toward Judaism and "a minimization of the Jewish biblical roots of Christianity."
"It saddens me that those who raise objections, doubts, concerns and outrage about these kinds of programs are always Jews, reduced to the thankless and disagreeable task of having to act as a 'dialogue policemen,' instead of influential Christian voices," he said.
Laras, a university professor who taught Jewish history and philosophy, also said the conference promoted "Marcionism," referring to the school of thought espoused by Greek theologian Marcion who believed that the Old Testament God was angry and wrathful while the New Testament promoted a loving and merciful God.
Milan's chief rabbi, Alfonso Arbib, also expressed concern about the conference and its intentions on March 14.
"Theological arguments have been used in the past as a weapon against the Jews: the vengeful God of the Jews, the God of justice as opposed to the God of love, used as anti-Jewish propaganda," Arbib said.
"When arguments of this kind are used it raises our alarm," Arbib said. "Through Jewish-Christian dialogue the Catholic Church has overcome these arguments. It seems that now they are coming back."
Luca Mazzinghi, president of the Italian association hosting the conference, said the criticism was "completely unjustified."
The organization has around 800 members, including academics and other experts, and is recognized by Italy's Catholic Bishops' Conference.
"Those who created this controversy — without thinking about contacting either the president or the organizers — wanted to create political, ideological and religious implications which are completely unrelated," Mazzinghi said, adding:
"As there is absolutely no anti-Semitism or attack against the Jewish faith or Judaism in general, we strongly reject any objections to our agenda."
---
Join the Conversation
Send your thoughts and reactions to Letters to the Editor. Learn more here [1]