The Life: Ecumenism in experience, sisters share their spiritually enriching encounters
The panelists for August responded on a very personal level, sharing their life experiences that led them into an appreciation of other religions and ecumenical experiences. The panel responded to the following question:
There are many entryways to ecumenical experience. Describe the door that let you, personally, walk into a sacred experience with or in a different religion or denomination.
______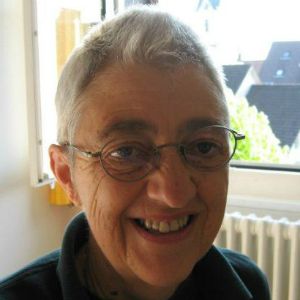 Thomas Limacher is a Sister of the Holy Cross of Menzingen, Switzerland. She ministered in South Africa during apartheid and later worked at the Swiss Pilgrim Place of Saint Brother Claus, a famous shrine and pilgrim destination. She now does development work in Missions Procure, an intercongregational nongovernmental organization that supports the projects of her sisters worldwide.
I remember well the first time I entered our Protestant church in my home village. As a baker, Dad delivered special bread to the pastor. One day, he took me with him. I was an extremely curious little girl, so I definitely wanted to take a look in the "strange church."
I received the shock of my life: a wooden table, a pulpit and a big book in a bare rectangular room. That was it. Accustomed to the stained glass or painted windows — storytellers to a small kid — as well as the uncountable little golden turrets of many altars, the statues and the picturesque "heaven" (a blue ceiling painted with lots of flowers) of the neo-Gothic parish building, I only felt pity for the Protestant churchgoers.
In my teens, Dad, a stern Roman Catholic, always praised his Protestant customers as the noblest people he ever met. Some of their children were attending our school; some went to their own schools. To us, they looked a bit exotic. But my father's remarks gave me something to think about. Maybe he was the original cause of my longing to experience other people's religion.
Today, we have good ecumenical interactions in Switzerland. Here in Menzingen, we are lucky to have a married couple as pastors. They do their pastoral work together and have services for everyone. They use ecumenical prayers. Barbara and Christoph's sermons are profound and well prepared. I think they express the signs of the times for both Catholics and Protestants.
At a three-month Bible school in Israel in 1989, I met a lot of Jewish and Muslim people deeply rooted in their beliefs. Our teacher, Fr. Feneberg, introduced us to both monotheistic religions, enlarging not only our Bible knowledge but our minds.
In India, our community's institutions are open for people of all religions. Once, I was attending a wedding of a young Hindu woman, and her mother asked me to bless her daughter and pray over her as she left for the husband's house. Several times, I was taken to Hindu temples, and I enjoyed the colors and the people offering all kind of goods to their goddesses.
Another time, I attended a Muslim "baptism." It was touching how the Quran reading in the biggest room of the house was the main function of the girl's great day.
Dad planted the seed, and my curiosity about other people continues to broaden my heart.
Read the full story at Global Sisters Report
---
Join the Conversation
Send your thoughts and reactions to Letters to the Editor. Learn more here [1]