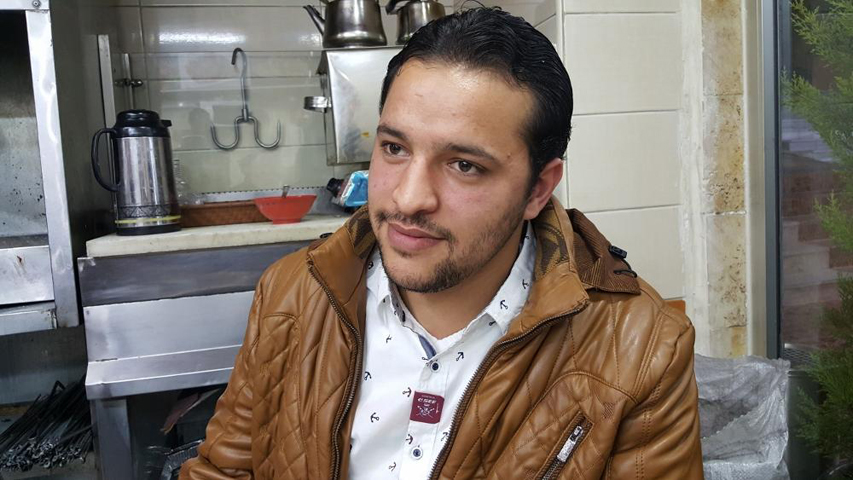 Mohammad Rostom, 23, in the small restaurant in Amman, Jordan, where some of his relatives work. They are all originally from Syria. (GSR/Chris Herlinger)
Mohammad Rostom first heard the news about the recent Brussels suicide bombings at the small, cramped restaurant where a number of his brothers and cousins work in Amman, Jordan.
As one of his cousins carefully sliced a side of lamb broiling over a spit, Rostom took in the news about the March 22 incident and shook his head in frustration.
"It makes it more difficult for us Syrians," said the 23-year-old Syrian refugee. "People will say, 'It was done by Syrians. Syrian people were the reason for the bombing.' It isn't good."
The suspects in the bombing were not Syrian; they were born in Belgium and had family ties to Morocco. But to Rostom and to other Syrian refugees living in Jordan -- nearly 1 million in all -- even the slightest perception of a problem was another challenge as they try to fashion new lives outside their home country.
The hurdles are all inter-connected. There is the trauma that comes with the experience of war, then the day-to-day difficulties of work -- Syrians generally are part of the "underground" economy as underpaid workers. And always present is the continued uncertainty of place: Do they return to Syria (some want to, many do not), try to go to the West, or remain in Jordan?