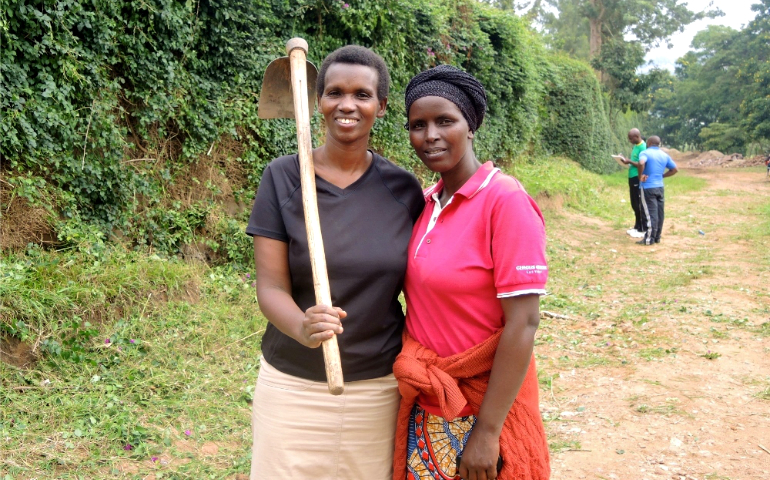 Yvonne Nshuti, left, poses with a neighbor during the monthly Umuganda community service day in Kigali, Rwanda. (GSR photo/Melanie Lidman)
Kigali, Rwanda — May 3, 2017
When the sun rises on the last Saturday of each month in Rwanda, it dawns over a country blanketed in silence. The ubiquitous motorcycle taxis, which stream across the city non-stop, disappear. Stores are shuttered, streets are empty.
Once a month for four hours, the entire country shuts down to take part in government-mandated community service called "Umuganda," a Kinyarwanda word that means "coming together in common purpose to achieve an outcome."
Rwanda's monthly day of good deeds is the government's innovative — though mandated — solution to the challenges the country faced after the 1994 Rwandan genocide, when more than 800,000 people were killed during 100 days of fighting.
"We call it 'Made in Rwanda,' unique things that Rwanda needs to do to overcome our unique challenges," said Faustin Zihiga during Umuganda Day at the end of February. Zihiga and about 100 of his neighbors spend each Umuganda cleaning up Kimana Village, their middle-class neighborhood in the capital of Kigali.
"After the genocide, the leadership had to look for ways to rebuild a shattered community," explained Zihiga. "They came up with things that will help people revive the voluntary spirit."