A version of this story appeared in the Oct 23-Nov 5, 2015 print issue.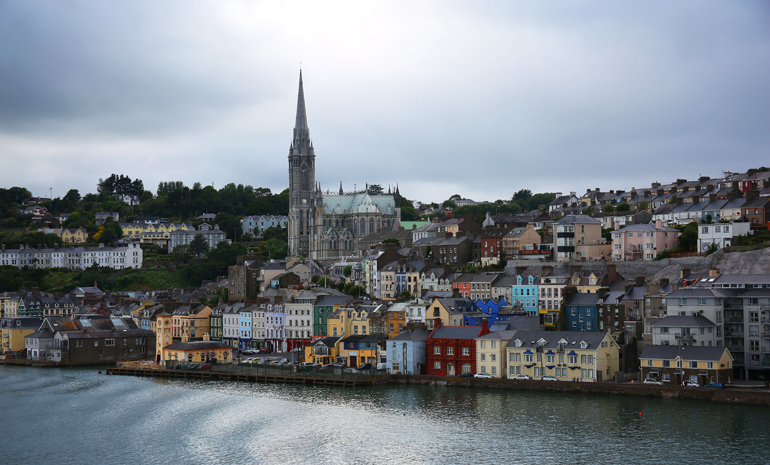 St. Colman's Cathedral overlooks Cobh Harbor in Ireland. (Rennett Stowe)
In late summer 1917, not long after the militaristic President Woodrow Wilson began drafting American men to kill or be killed in Europe, soldiers were hurriedly and poorly trained for the trench warfare in which 320,000 of them would be killed or wounded.
Among those tightly crammed on a troop ship bound for the Western Front was John McCarthy, a 29-year-old lawyer from Glen Cove, N.Y.
Before unloading the soldiers in France, the ship docked in Cobh Harbor in County Cork, Ireland. Still at sea on the southern Irish coastline, the first horizontal sight was St. Colman's Cathedral in the Cloyne diocese.
The towering neo-Gothic structure, with gargoyles, flying buttresses and a carillon of 49 bells, was built atop a steep hill. Construction began in 1868, ending 47 years later in 1915.
A sergeant major of the Army, McCarthy, aware of the pending bloodshed, went to St. Colman's to pray.
Lawyer-like, he made a deal with God, and with St. Colman as the intercessor: If he survived the war, came home to marry and had a son, that son's name would be Colman.
Judging by the outcome of the petition, St. Colman had exceptional persuasive powers with God. Not only was Sgt. Maj. McCarthy not killed in combat, he never came close to the scorched battlefields of Argonne, Marne, St. Mihiel and the rest. When it became known that he was a lawyer, an appointment came to the staff of Gen. John Pershing, head of the American Expeditionary Forces.
Ten years after the armistice of 1918, my father and mother married in St. Patrick's Cathedral in New York.
I'm not sure of the details -- he died of a coronary when I was 16 -- but my father's memory of that 1917 day he prayed in St. Colman's Cathedral was not as sharp as it might have been. My three brothers came before me, and not a one was christened Colman.