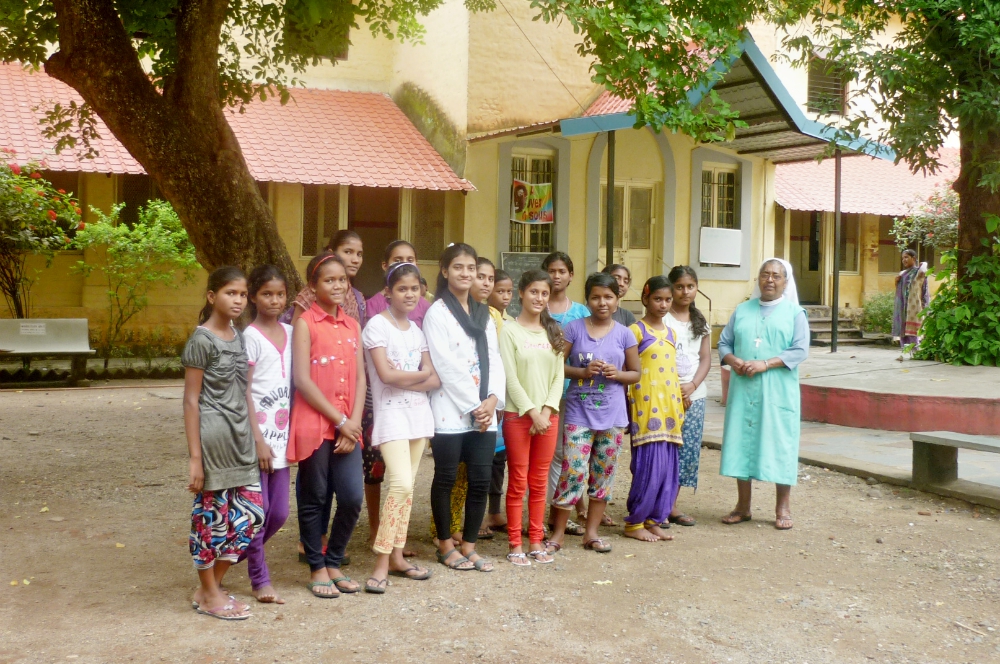 Some of the boarders with their director, Sr. Georgina Jose, in front of Maria Niwas in Nagpur, central India. (Lissy Maruthanakuzhy)
Nagpur, India — March 11, 2019
Pushpa Andre knows neither her parents nor her place of birth. "The sisters made up for my parents' absence," says the retired nurse, who grew up in a Catholic orphanage in Nagpur, a central Indian city.
Now, the 64-year-old woman has her own family comprising two sons — one of them a priest of the Nagpur Archdiocese. She credits the training she received in the orphanage for her healthy family life today.
Andre is among hundreds of orphans the Salesian Sisters of Mary Immaculate have helped to settle in life and raise healthy families. Like Andre's son, children of some orphans have become priests and nuns, doctors and engineers.
Sr. Elizabeth Trinity, who heads the congregation's Nagpur province, says their orphanage, called Maria Niwas, has helped about 700 children start out in life since its inception more than a century ago.
"Since they themselves had no families, these women were keen that their children grew up in a good family atmosphere," she told Global Sisters Report.
The orphans maintain regular contact with the orphanage even decades after they have left it to start families.
"They are attached to us as family. They consider each other as their siblings. They all come together at our place twice a year," Trinity said.