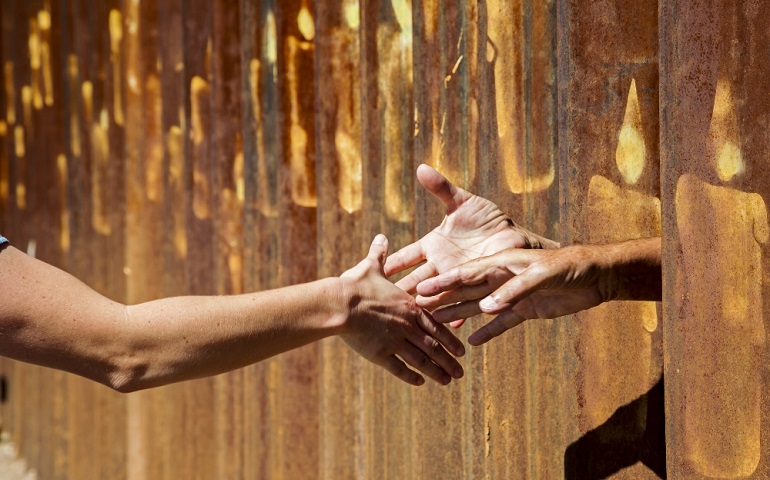 Two hands reach out from the U.S. side of the border fence to shake the hand of a person on the Mexican side Oct. 8 during immigration rallies in Nogales, Ariz., and in Nogales in the Mexican state of Sonora. Activists protested what they say is an increasing militarization of the border. (CNS/Jim West)
Many women religious in the United States are trying to find hope in the phrase "President-elect Donald Trump."
His Nov. 9 victory over Democratic nominee Hillary Clinton, who had been favored in most polls as the winner, stunned pollsters, pundits, the general electorate and the world.
Though having lost the popular vote, Trump will be sworn in Jan. 20, 2017, as the 45th president of the U.S., with a Republican-controlled Senate and House of Representatives behind him.
Despite having been on the campaign trail for more than 16 months, Trump's concrete policy proposals still leave much to the imagination for those working in social justice ministries.
Daughter of Charity Mary Ellen Lacy, who works as a public housing attorney in East St. Louis, Ill., said she has a "general idea" what consequences a Trump administration could have on her federally funded ministry, though Trump has spoken very little on his plans for the poor and his attitude toward entitlement programs.
"When you make decisions about programs that affect people and don't know how they live or where they come from, you run the risk of not making the best decisions," she said. "My hope and prayer for him is that he'll get to know the plight of the poor before making rash judgments that some people who don't know anything about the poor make."