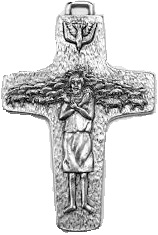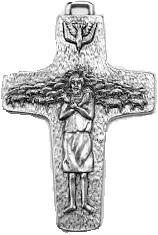 "A good shepherd lays down his life for the sheep" (John 10:11).
Acts 11:1-18; John 10:11-18
The image of a shepherd became synonymous with the ideal leader in the Bible.
The faithfulness and skill of a shepherd protected the flock and brought it to good pasture. Abel was a shepherd, so were Abraham, Jacob and David. The prophet Ezekiel condemns leaders who were unfaithful shepherds and promises that God is Israel's true shepherd. Psalm 23 is one of the most beloved of all the psalms, and the words "The Lord is my shepherd," are part of many funerals, a deeply comforting image of Jesus as the good shepherd who guides us through life and to green pastures.
The Infancy narratives lift up simple shepherds as the first to welcome the infant Jesus, and one of Jesus' most revealing parables about God's mercy is the story of a shepherd who pursues a single wayward sheep and brings it safely home. Jesus was not a shepherd himself, but it is easy to see how the tradition of the faithful shepherd was another fulfillment of the Scriptures for the evangelists. Jesus was the shepherd who was willing to lay down his life for the sheep.
John's Gospel applies the image to Jesus in his exchanges with the Pharisees about true leadership. Unlike the professional religious guides, whom Jesus likens to hirelings, he protects God's flock instead of fleecing and abusing them. Proof of his fidelity is that he will lay down his life for them. He is also the Lamb of God, the sacrificial offering whose blood on the lintels was the sign of Passover and the start of the Exodus to freedom. All of these symbols are applied to Jesus in the fourth Gospel.
Pope Francis famously called bishops and priests to fulfill their vocations as shepherds who so immerse themselves in their ministry that they "smell like the sheep." The pope chose for his pectoral cross a simple metal depiction of the Good Shepherd carrying the lost sheep on his shoulders to signal his emphasis on God's mercy and the pastoral renewal of the church as the keynote of his papacy.
The call to follow Jesus is a call to all of us to be good shepherds for one another and especially for the most vulnerable among us—children, refugees, the poor, immigrants, exploited workers and victims of trafficking. Anyone who has been responsible for the care of others is like a shepherd. We pray for doctors, nurses, EMTs, some of whom have literally laid down their lives, but also for parents, teachers and public servants of all kinds in this time of the pandemic.