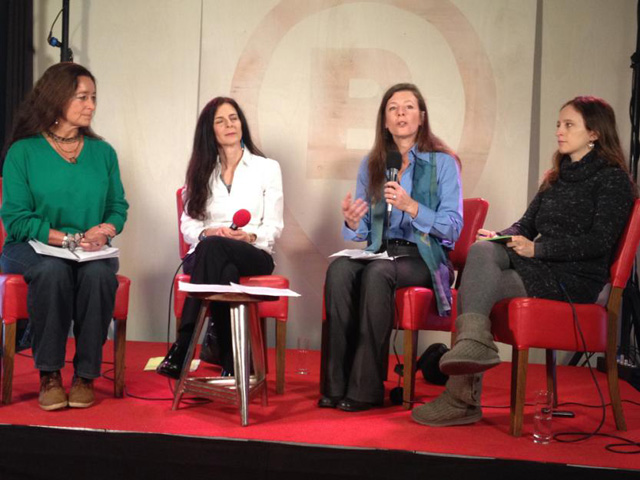 From left: Liz Hosken, Osprey Orielle Lake, Linda Sheehan, and Natalia Greene at a Dec. 3 COP21 civil-society presentation (Elise D. Garcia)
A groundbreaking study examining 100 incidents of co-violations of human rights and rights of nature was released Dec. 3 at a COP21 civil-society presentation. The report highlighted a growing trend linking violations of rights of people and rights of nature, underscoring the reality that the well-being of humans and nature is inextricably linked.
The 125-page study, Fighting for Our Shared Future: Protecting Both Human Rights and Nature's Rights, was done by the San Francisco-based Earth Law Center in partnership with the Yale School of Forestry and Natural Resources and the Yale Environmental Protection Clinic.
"Most of the cases are in the global south because that's where the race for extraction is occurring," Linda Sheehan, executive director of the Earth Law Center and one of the authors of the study, said at the presentation. "The race for profit is coming at the expense of people and Earth, especially indigenous people."
People who try to defend their environments are also paying a heavy price. "We are seeing killings of defenders of Earth in these cases," Sheehan said.
The study shows that more than 60 percent of the violations involved extractive industries and energy production. According to the study, in more than half the cases, the state was implicated as a perpetrator of rights co-violations, either alone or with the industry.
"This finding is consistent with United Nations studies," Sheehan said.