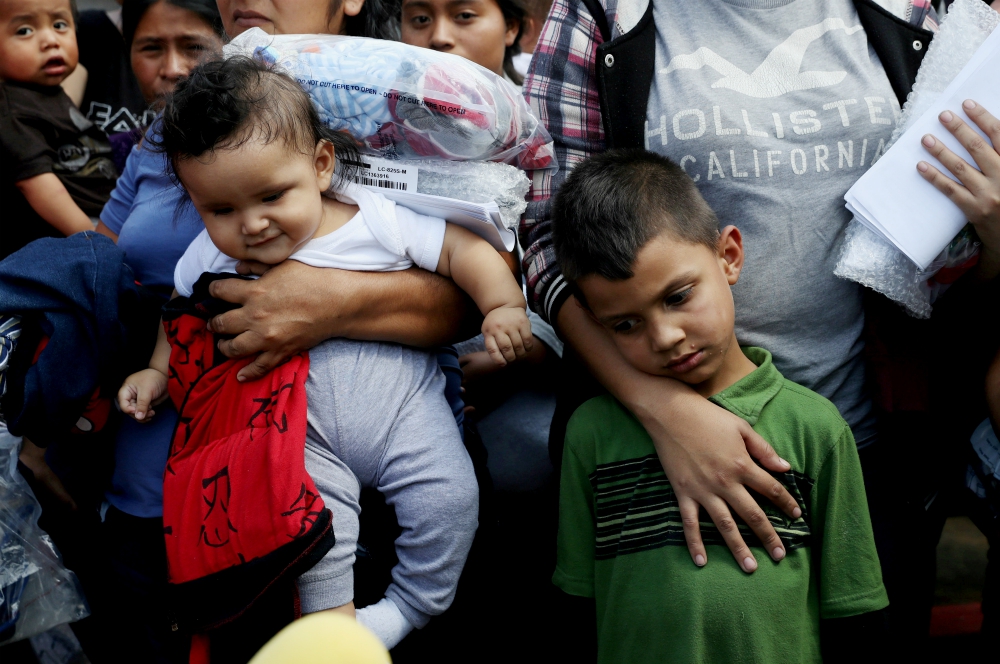 Immigrant children are seen at a bus depot June 22, 2018, in McAllen, Texas. Sisters volunteering at the border are doing "real, on the ground, Gospel, at-the-periphery work," says St. Joseph Sr. Carol Zinn. "The situation is pretty dire." (CNS/Reuters/Loren Elliott)
Sr. Norma Pimentel made news Jan. 10 when she was invited to a roundtable discussion of border issues as President Donald Trump visited the U.S. southern border. The Missionaries of Jesus sister had invited him in a public letter the day before to visit the Humanitarian Respite Center she runs.
But Trump had dismissed the border visit beforehand as a waste of time and mere photo op, The New York Times reported. Pimentel's presence at the roundtable was just that — she was in the audience, not at the table, and not allowed to speak. All those speaking praised Trump administration policies.
Yet behind Pimentel's witness for more humanitarian treatment of asylum-seekers by the administration is a host of women religious who have traveled across the United States and Canada to volunteer at the border in recent months. The wave of volunteers comes in response to information and a call to help issued in October by the Leadership Conference of Women Religious.
At least 286 sisters have volunteered at the border, and congregations have sent more than $340,000 to the agencies working there, such as the Humanitarian Respite Center in McAllen, Texas, and Annunciation House in El Paso, Texas, and many others, said Sr. Carol Zinn, executive director of LCWR.