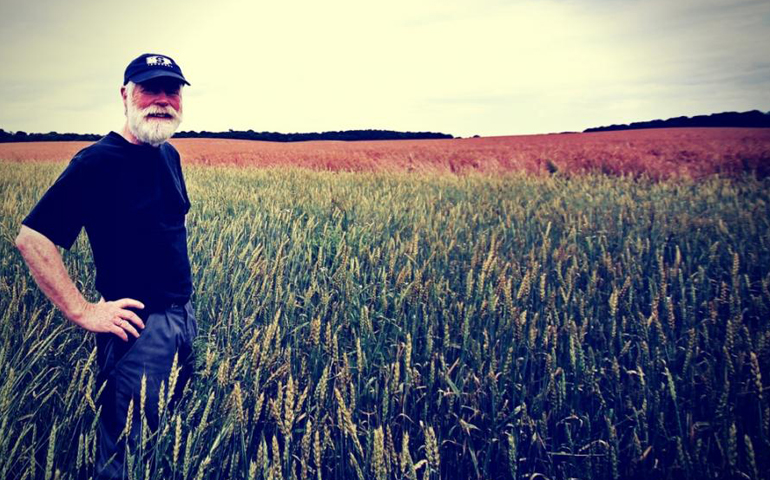 A famer stands in a wheat field in the United States, where the largest 4 percent of farms control 55 percent of all the farmland. (Pixabay stock photo)
Editor's Note: Global Sisters Report often focuses on work that sisters do to help those who are hungry or have food insecurity. This week, as the United States celebrates the feast of Thanksgiving, we focus on sisters who are active in food justice — trying to make sure that everyone not only has enough to eat but also access to healthy choices.
---
Single mother Cindy Shipley works as a dog groomer in New Palestine, Indiana. She makes about $1,200 a month, and her income is supplemented by the disability benefits she and her two teenage children receive. After paying her rent and bills, Shipley has about $500 left over each month to feed a household that can be as big as seven people when she watches her two grandchildren — which she does several times a week.
The U.S. Department of Agriculture estimates that a family of four must spend at least $568 a month to eat a balanced diet. And so, when Shipley goes to the grocery store, she has to be strategic.
On the first of the month, Shipley goes to the popular discount grocer Aldi to stock up on things like Ramen noodles, frozen chicken nuggets, lunchmeat and spaghetti. She makes another shopping trip at the end of every week, spending about $50 to grab whatever she needs to complement her dinner plans. She tries to do most of her shopping at Aldi because of the low prices. However, one Friday night in November, Shipley bypassed Aldi to pick up a few items at a local supermarket chain. She was disappointed. "There wasn't a lot in the cart for $60," she said.
The dilemmas that Shipley and other low-income consumers in the United States face when they buy food is one result of a transformed U.S. food system that has largely left low-income people behind, said Ursuline Sr. Christine Pratt who has been studying U.S. food and agriculture for the last 40 years. The rallying cry of people like Pratt, who are part of the food justice movement, has been that all people should have the right to grow, sell and eat healthy foods.