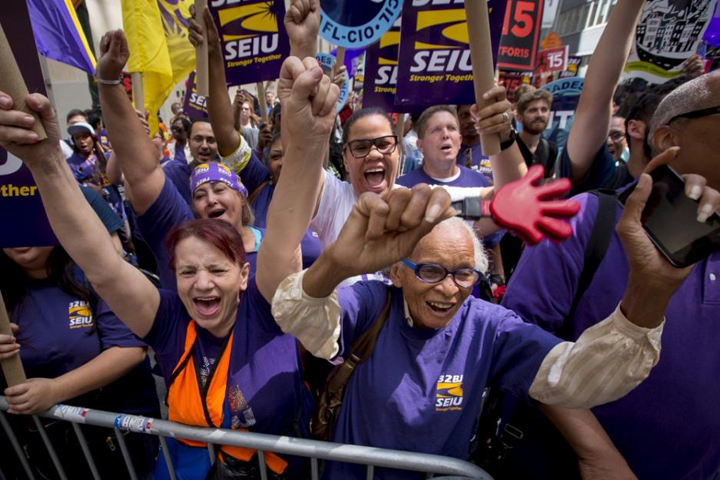 At a July 22, 2015, rally in New York City, people celebrate passage of a recommendation by the New York State Fast Food Wage Board that the minimum wage for fast-food workers be raised to $15 an hour. (CNS/Reuters/Brendan McDermid)
Supporting a living wage is one of the most effective ways people of faith can uphold the dignity of work. NETWORK and Catholic social justice teaching support an economy that puts people, not profit, at the center, where each person can find a job that provides for his or her family.
In the spirit of cooperation supported by the faith community, striking federal workers chanting "We can't survive on $7.25!" called on President Barack Obama to take executive action to raise their pay. These efforts by federal contract workers have proven effective, and the administration answered their calls in 2014. Obama's announcement of a historic executive order raising the minimum wage for federal contract workers to $10.10 an hour was a critical move in creating national conversation about the need for a living wage. But there is still work to be done if we are to ensure that all people live in dignity.
I was delighted to be invited to the White House when Obama signed his executive action. There, I sat next to a low-wage worker named Robin who was wearing a beautiful blue dress. Robin beamed as she told me that she purchased the dress using her employee discount at the retail store where she worked. Robin also shared that she lived in a homeless shelter because she could not afford a place of her own on how little she earned working full-time. We were there to celebrate the good news of Obama's action, but the awareness that women like Robin still lived in poverty left me anguished.