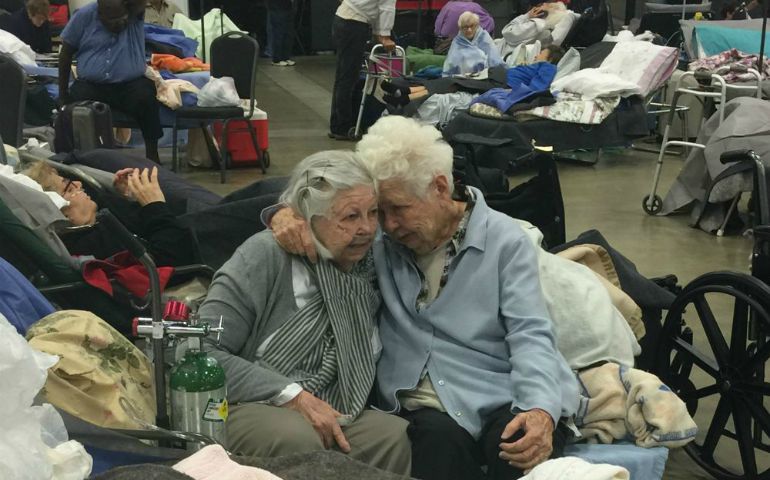 Adrian Dominican Sr. Grace Flowers, right, hugs a woman at their shelter at the Palm Beach County Special Needs Center in West Palm Beach, Florida, during Hurricane Irma. (Courtesy of Sr. Grace Flowers)
For the Adrian Dominicans in West Palm Beach, Florida, waiting was the worst part of Hurricane Irma, especially those hours between when the preparations finish as the first winds arrive and when the full fury of the storm begins. Days of frantic prep-work come to a halt, and all you can do is wait, wonder and pray.
"The most excruciating part is the waiting and anticipation for the storm to arrive. It is waiting for the unknown and the uncontrollable," Sr. Judy Rimbey, who compiled the sisters' activities leading up to the hurricane, wrote to Global Sisters Report in an email. "Clearly, God and the forces of nature are in control."
The sisters spent the three days before Hurricane Irma was expected to make landfall storing every outside item that could be taken up by the wind, not just to avoid losing things but to keep them from becoming projectiles against someone else's home. Outdoor chairs, grills, plants, recycling bins — all had to be brought inside. Shutters had to be attached to every window and glass door, and they had to be closed before the storm hit, Rimbey wrote.