I remember the day I was afraid to leave the house. The 10 steps from my apartment to the elevator would be like walking on coals. I was only going to meet a friend for lunch but I felt anxious, and sorry I had suggested it. I wanted to stay inside, in familiar territory. What was wrong with me? It was an easy drive to the restaurant, a friendly place with a favorite table saved for me and my friend. But I wanted the security of my home. I needed to be within. I desired something I was not used to but could not describe.


Book Review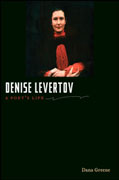 DENISE LEVERTOV: A POET'S LIFE
By Dana Greene
Published by the University of Illinois Press, $35


Book Review
FALLING UPWARD: A SPIRITUALITY FOR THE TWO HALVES OF LIFE
By Richard Rohr
Published by Jossey-Bass, $19.95
The title of this latest book by the Franciscan writer Richard Rohr reminds me of a painting by an artist friend whose work hangs in many public buildings in the United States. It is an oil painting of an abstract angel, seemingly all wings, strong and inviting, pulling the viewer forward and upward into freedom. The legend accompanying the painting reads: "Where are the angels? They're standing here." Rohr's treatment of the second half of life is about the experience of now and here.