Fostering vocations to the priesthood and religious life is the "biggest challenge" for the Catholic Church in China, said Passionist Fr. Robert Carbonneau, executive director of the U.S. Catholic China Bureau.
Blog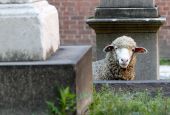 Eco Catholic: The sheep -- Faith, Hope and Charity -- are the latest organic lawn mowers at the Basilica of St. Patrick's Old Cathedral in Lower Manhattan.
"Don't be angry. We lost stuff. We will get other stuff," one pastor told his New York congregation in a homily at Sunday Mass.