New Delhi -- Catholics in a south Indian diocese want their bishop removed for allegedly misappropriating diocesan funds to lead a luxurious life with his wife and son.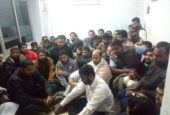 Bhopal, India — Police detained a group of Catholic seminary carolers in the Satna district of central Madhya Pradesh state Dec. 14 following allegations they were seeking religious conversions.
Kochi, India -- The case was the first time a Catholic priest was convicted under India's child protection laws. Priest's brother found guilty of hiding him.