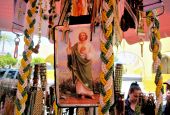 Reflecting "the uncertainty of this world," St. Jude Thaddeus is a fixture in altars honoring the disappeared, while Santa Muerte has taken root in communities ravaged by violent crime.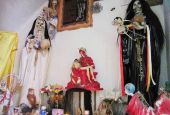 Santa Muerte, the skeleton folk saint, is appealing to transgender sex workers, who face the persistent threat of violent clients and transphobic hatred in Mexico. Employment discrimination forces many transgender women to turn to sex work for money.
The bullet-ridden body of Fr. Jose Lopez Guillen was found Sept. 24 on the highway in the western state of Michoacan, a region plagued by violent conflict.