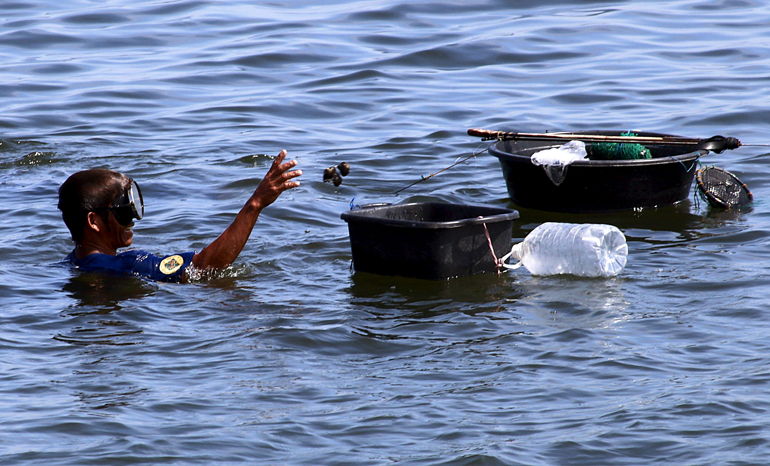 A fisherman collects sea shells in Manila Bay at Cavite City, near Manila, Philippines, July 23. Philippine environmentalists and advocates for farmers, fishes and poor Filipinos lauded the recently released encyclical, "Laudato Si'," as affirmatio" for their causes. (CNS photo/Romeo Ranoco, Reuters)
Manila, Philippines — August 20, 2015
Philippine environmentalists and advocates for farmers, fishers and the poor lauded the recently released encyclical, "Laudato Si', on Care for Our Common Home" as "affirmation" for their causes and said that, using it as a guide, they were ready to get to work.
They kicked off a series of discussions in Manila Wednesday with indigenous peoples and others who are directly affected by climate change and the energy sector's impact on the environment. Organizers said this was the first time Philippine civil society groups were coming together to glean practical applications from the encyclical on caring for the earth by meeting the needs of the poor.
Raul Socrates Banzuela, secretary-general of PAKISAMA, a Philippine farming and fishing advocacy group that represents 33,000 members, said the pope's encyclical "affirms a lot of what we are doing." He said the organization for decades has been fighting for land rights, especially at mining sites, for its members who are on the lowest rungs of the country's economic ladder.
"It's an affirmation from a powerful ally, an ally who is being heard," Banzuela said during a news briefing before the roundtable talks. "Not only by 1 billion Catholics in the world -- he's being heard by the United Nations, the World Bank, the president of the United States ... and of course, (Pope Francis) will be heard by the most powerful institutions and individuals here in the Philippines."
---
More: "Philippine church takes lead on Francis' environmental encyclical" (July 25, 2015)
---
Banzuela said in the past some of the biggest strides his group has made were helped by "the institutional church." However, he said a lot had to be done on the ground first before they got the church's attention. And with calling attention to their plight by citing the encyclical, Banzuela anticipated the group would have to work just as hard.
Columban Fr. Dan O'Malley said getting "Laudato Si'" translated into the Philippines' major languages such as Tagalog and Cebuano would be crucial to having the marginalized people's voices heard.
The priest from Our Lady of Remedies Parish in Manila pointed out that "small movements" should be supported by the church, such as advocacy work for rural folks and fishers who are "taking the brunt of the problem."
"This is a shared process, that farmers, the fishermen, the vulnerable, the squatters, they must participate in the solutions," said O'Malley. "They must grapple with the problem. They must see it as a problem. They must see that they have power in changing it."
Editor's note: Want more stories from Eco Catholic? We can send you an email alert once a week with the latest. Just go to this page and follow directions: Email alert sign-up.