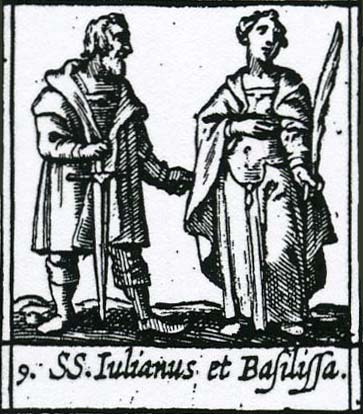 Julian und Basilissa By Ribadineira: Generale legende der Heyligen [Public domain], via Wikimedia Commons
Introduction
Blacks in Catholic Christianity have a long and vibrant history.
Much of that history is generally unknown to Black Catholics as well as to the rest of the faithful. On July 24, 1990, the National Black Catholic Clergy Caucus of the United States designated November as Black Catholic History Month to celebrate this long history and proud heritage of Black Catholics. During this month we celebrate the presence of our ancestors who kept the faith and are models of living the Gospel life.
Nov. 1 Saint Julian and Basilissa
Did you know that married lay people can become saints?
Saints Julian and Basilissa, though married, lived in chastity by mutual consent about 304, in Antioch during the reign Diocletian. They used all their money in relieving the sick and converted their home into a hospital which sometimes housed thousands. Saint Basilissa tended the sick women in one part of the house while Saint Julian ministered to the men in another part. Saint Julian came to be known as the hospitalarian.
Saint Basilissa died before Saint Julian after several persecutions; Saint Julian lived many years longer. Although they both died in peace, the Church calls them martyrs
November is Black Catholic History Month, read more about it.
This is copyrighted material, used with the permission of the Archdiocese of Washington, Office of Black Catholics.