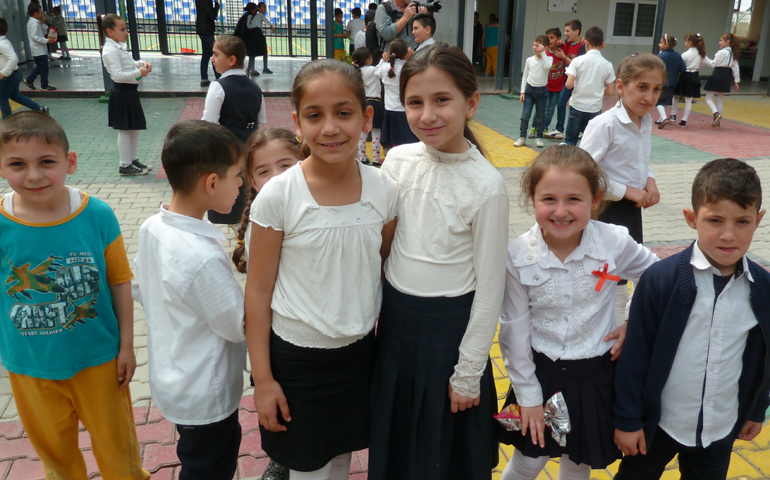 Internally displaced Iraqi school children during recess at Al Bishara School (Annunciation School), run by the Dominican Sisters and located in the City of Ankawa on the outskirts of Erbil, Iraq.
Erbil, Iraq — April 7, 2016
Editor's Note: This week Cardinal Timothy Dolan, Archbishop of New York and Chair of Catholic Near East Welfare Association, is traveling to Iraqi Kurdistan on a pastoral visit to that region's displaced Christian families. NCR has been invited to be a part of this small delegation.
The first full day on the ground in the northern region of Iraq known as Iraqi Kurdistan, a semi-autonomous region recognized by the Iraqi government in Baghdad, is completed. Our small delegation visited a grade school, Al Bishara School -- the Annunciation School -- located in Ankawa, a largely Christian community on the outskirts of Erbil, that is run by the Dominican Sisters. After lunch, we visited a newly-established public university serving some 1,400 students seeking a bachelor's degree, and attended a religious ceremony at a nearby Christian church celebrating the Year of Mercy called by Pope Francis.
The children at Al Bishara School were enjoying recess when we arrived. Like most kids the world over, they loved getting their pictures taken. They horsed around and pushed and shoved to get their picture taken. Pairs of kids would wait patiently for their turn. When they saw themselves on the digital camera screen afterwards, they smiled and laughed and elbowed each other. It could have been recess at any grade school in the U.S.
One of the highlights of the first day was an exclusive NCR interview with Dominican Sister Maria Hanna, superior general of the Dominican Sisters, who shared the harrowing story of exodus from the City of Mosul, just over 50 miles from Erbil, from the village of Bashiqa, some twenty minutes from Mosul, and from Qaraqosh, the largest Christian city of Iraq. It is a compelling story, which I will file soon.
Erbil is a city of contradictions.
Only a few years ago, Erbil was on track to be the next Dubai, as laborers, cement trucks and engineers raced to build office buildings and condominiums. Then the combination of the Islamic State group threat and the fall of oil prices left dozens of skyscrapers unfinished. Incomplete projects, with open staircases several stories high, are simply abandoned. While investors, general contractors and homeowners were left empty-handed and engaged in litigation, internally displaced people moved in on the first floor. Refugee camps -- really camps for internally displaced people – now dot the landscape.
So far there has not been a heavy military presence either at the airport or seen from the van. In the early evening hours women and children can be seen walking freely on the streets or shopping at curbside fruit and vegetable stands as if no threat of an Islamic State group attack is imminent.
Despite significant uncertainty about what lies ahead, the displaced Dominican Sisters and college students and administrators with whom we spoke shared stories of resiliency and a determination to create a new future for themselves and for Iraq.
[Tom Gallagher is a regular contributor to NCR and lead writer for the newspaper's Mission Management column.]