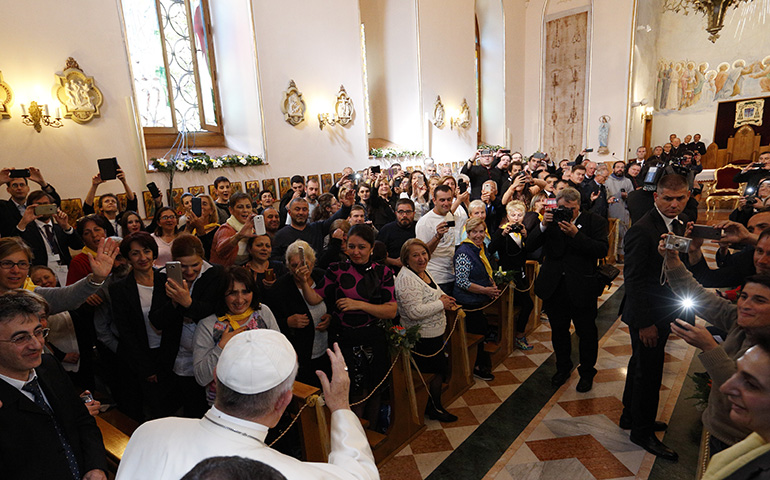 Pope Francis arrives for a meeting with priests, men and women religious and others in Tbilisi, Georgia, Oct. 1. (CNS/Paul Haring)
Tbilisi, Georgia — October 1, 2016
Pope Francis strongly criticized modern attitudes towards marriage during a series of lengthy off-the-cuff remarks to Catholics in this country Saturday afternoon, at one point declaring: "Today there is a global war to destroy marriage."
Meeting with priests, seminarians, religious and lay people of the tiny Catholic minority population of the Caucasus nation, the pontiff spoke for more than 45 minutes and emphasized many of the same points he has often made over his 3.5 year papacy.
But the pope became particularly forceful when speaking of marriage, calling it "the most beautiful thing that God has created." He said that the Bible describes a man and woman in marriage together as God's very image.
"Do you know who pays the cost of divorce?" Francis asked aloud to the crowd at Tbilisi's Church of the Assumption. "Both people, and even more: God pays because when you divorce ... you dirty God's image."
The pontiff later described the "global war" against marriage, saying it was occurring through a process of what he has called "ideological colonization."
"Today you do not destroy with weapons, you destroy with ideas," said Francis. "It is ideological colonization that destroys."
The pope was responding in his remarks Saturday to personal testimonies presented during the meeting by four Georgian Catholics: a priest, a seminarian, a mother, and a young man.
The mother, a woman named Irina, had mentioned problems facing family life in Georgia, including divorce and "new visions of sexuality such as gender theory and the marginalization of the Christian vision of life."
The mother also thanked Francis for his recent apostolic exhortation on family life, Amoris Laetitia ("The Joy of Love").
While the pope strongly criticized divorce, he also said he understood that there are some situations in which it is impossible for couples experiencing marital difficulties to reconcile. He said the church must do four things for people in such situations: welcome them, accompany them, promote discernment, and integrate them into the community.
Francis also sharply criticized gender theory, calling it "a great enemy" of marriage.
The pope has been visiting Georgia Friday and Saturday. He will travel to neighboring Azerbaijan Sunday before heading back to Rome that evening.
The Catholic community in Georgia comprises only about two percent of the country's population of some 3.7 million. Most of the country, about 83 percent, identifies as Georgian Orthodox.
[Joshua J. McElwee is NCR Vatican correspondent. His email address is jmcelwee@ncronline.org. Follow him on Twitter: @joshjmac.]