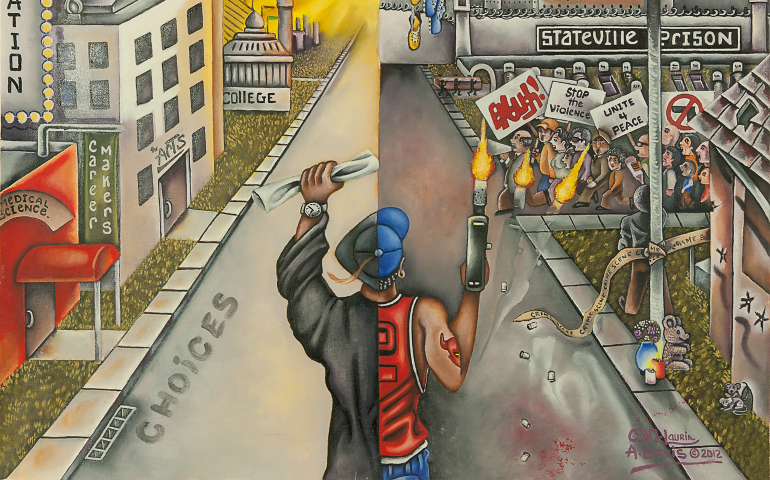 Artwork by Adolfo Davis and and Charles McLauren, who are in Stateville Correctional Center. (Provided photo)
Editor's note: "Reconciliation in Chicago" is NCRonline's newest blog series, a weekly blog from the Precious Blood Ministry of Reconciliation, a ministry of the Missionaries of the Precious Blood based in Chicago's Back of the Yards neighborhood. Each post will feature hopeful reflections from the ministry's staff and volunteers, as they share their stories about working with youth and families affected by violence and incarceration.
"Reconciliation in Chicago"is published Mondays at the feature series page Reconciliation in Chicago.
---
"Hey, Father, can we play the game?" Before I could respond he added, "They shootin' out on 51st and Morgan -- like 11 shots!" Such is Chicago. Tommie had come in with three other young men from the neighborhood who were looking to get off the streets for a while. I agreed that they could play the game (the video game NBA 2K13), but first we needed to sit in a circle. I wanted to check in with them and see how they were doing. While they take the shooting serious, sometimes we don't take the time to talk about it.
Tommie works part time after school here at Precious Blood Ministry of Reconciliation. He helps with the silk screening project, creating T-shirts as a part of the restorative justice arts program. Lately, the neighborhood has had a number of shootings and Tommie has had a few close calls. Our work, sometimes, is as simple (and difficult) as offering a safe place to just be.
A couple nights ago, a religious sister, who works in the neighboring parish, called and asked if we could meet and talk about the violence. She said that the shooting has been on the increase near the parish and they were at a loss as to what to do.
There is a sense of urgency among those of us who are working in the community that something has to be done. We cannot just continue to talk about it or wait for a different time or a better opportunity.
All of us are keenly aware of how violence affects families and communities. We know the impact of being in a state of hyper-vigilance and alertness. To be constantly on guard causes stress that results in an increase in the outbursts of anger, low concentration, drug or alcohol abuse, and further violence. Judith Herman, an expert on trauma and recovery, says that violence cuts at the very core of human relationships. She says that the only way to recover and heal is to re-knit or rebuild those relationships. Crime and violence is a violation of relationships, and so our response must be to restore those broken relationships and repair the harm done.
The spirituality of the Precious Blood is not a strategy or a spiritual exercise to be embraced only on retreat or on days of reflection. It has become a way of life that keeps us from becoming defeated; it is the recognition that it does not just depend on us or our abilities. Thomas Merton writes in a letter to Jim Forest, then a young activist, "The real hope, then, is not in something we think we can do, but in God who is making something good out of it in some way we cannot see." Theologian Bob Schreiter reminds us that reconciliation is God's work -- we are ambassadors of reconciliation. I may not see the end result, but I must have faith that God can and does bring good out of my faithfulness.
I remind myself constantly that the spirituality of the Precious Blood is about willingly entering into the chaos and uncertainty of life not because I have the answers or solutions, but rather because I believe that God can bring good out of my presence. There are times in which witnessing to the presence of God is merely showing up. It is about cutting through the doubt and despair and witnessing to God who has not abandoned us.
In the midst of it all, I admit that there are times in which I grow weary, but it is precisely those times in which I am grateful for those who have gone before me and upon whose shoulders I stand. The Spanish-born Jesuit Fr. Luis Espinal, who became a Bolivian martyr in 1980, wrote, "Teach us, Lord, to direct our lives toward what seems impossible, because behind the impossible there is your grace and your presence."
[Precious Blood Fr. David Kelly is executive director of Precious Blood Ministry of Reconciliation.]
A version of this blog previously appeared on the website of Precious Blood Ministry of Reconciliation. NCRonline presents the blog in collaboration with Precious Blood Ministry of Reconciliation.