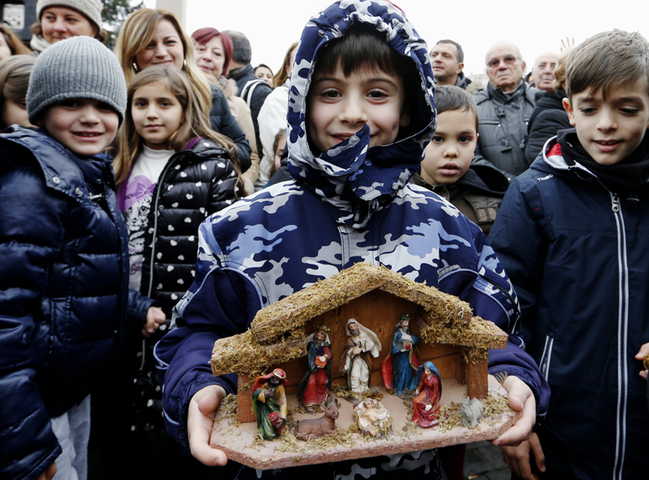 A boy holds his Nativity scene as Pope Francis leads the Angelus from the window of his apartment overlooking St. Peter's Square at the Vatican Dec. 11. (CNS/Paul Haring)
Why now, at 78, do I like Christmas so much? For many years I thought it nice but not really serious. Of course, I got excited about Christmas because it was so wonderful for children and grandchildren, my own most of all. Way back, when I was very young, I loved the anticipation, the ceremonies, and the encounters with big families gathered around my parents and grandparents. But later, when I began thinking about what I was told were important Christian matters -- Jesus was "born of the Virgin Mary, suffered under Pontius Pilate, was crucified died and was buried" -- Good Friday and Easter took center stage.
I recall with emotion the long Gospel Passion narratives, the stripping of the altar on Good Friday, and the sense that now more than ever it was time for confession. Then at Easter, the priest lit a fire outside church, we listened to the stories of Resurrection, and, spurred along by glorious music, we altar boys lifted the purple shrouds from statues of Jesus, Mary and the saints.
Christmas was OK for little kids but in Holy Week things got serious. Christmas -- and Easter -- had to be understood under the sign of the cross, Jesus dying for us. Christmas was a sentimental episode in December. But we, you and I, killed that guy through our sins and only that Jesus rose from the dead offered even a hint that maybe, with his help, we might make it to heaven.
Now I once again really like Christmas. In fact, I'm rereading Good Friday and Easter from the perspective of Christmas. After all, the whole story turns on the Incarnation, God's quite mysterious decision to become human, like you and me. And Jesus did after all live a life and offered some helpful guidelines before Good Friday. The message was pretty tough, summarized a while ago by Herbert McCabe: "If you don't love, you're dead. And if you do, they'll kill you." So, love is the big idea here, and Jesus' loving gifts of death and resurrection only make sense because of that first, hard to believe, loving gift of Emmanuel, God with us!
That's one reason I am now so taken with Christmas. Then there is the fact that the Christian story begins with really good news: God has decided to accompany us in history. That's more than enough reason to rejoice. Later the news of Good Friday is not so good, and the news of Easter is good but ambiguous: Jesus has risen but then he leaves and he will be back, we're not sure when. But because of Christmas we know that the Crucifixion and Resurrection are good news: human history, our history, matters, because of that original gift of the Incarnation. As Pope Francis reminds us in "The Joy of the Gospel": We should not be "sourpusses," he says; our first Christian response should be rejoice!
I also like Christmas because there are so many people around. Mary and Joseph are on the road with almost everybody because of that clumsy census; that's why there is no room at the inn. Then there are those shepherds, bottom-of-the-barrel caretakers of sheep, who are the first to get the message to rejoice. Then come the wise men from the East who, remarkably, follow the star to a stable and, without a moment's hesitation, they enter, pay homage and give gifts. Then they return home.
Later things would be less simple. At the foot of the cross or in the days after the Resurrection there were already us and them, the followers of Jesus and the others, some of whom had murdered Jesus. But Christmas, as Jews are counted and shepherds are summoned and wise men from far away follow that star, is surely for everybody. And if we read the later stories of the life and teachings of Jesus in light of that story of God's choice to accompany us, life and history open up. We can imagine ourselves at the foot of the cross or in front of the empty tomb in the light of that first story of God with everybody. Then we all might be able to say with the Second Vatican Council that "the joys and hopes, the griefs and anxieties, of the men and women of this age ... are the joys and hopes, the griefs and anxieties of the followers of Christ."
One thing we American Catholics surely need is a rebirth of utopian vision, a confidence that there is a beloved community up ahead -- we call it the kingdom of God. Living joyously in that faith, serving as best we can the whole human family, gives meaning and purpose to our own lives.
Christmas, celebrated as our living communion with our God who is love, is a great time to renew that vision of why God came among us and why we rejoice with the gift of God's Spirit.
[David O'Brien is emeritus professor of history and Catholic studies at the College of the Holy Cross.]
A version of this story appeared in the Dec 16-29, 2016 print issue under the headline: The Christmas story turns on the Incarnation.