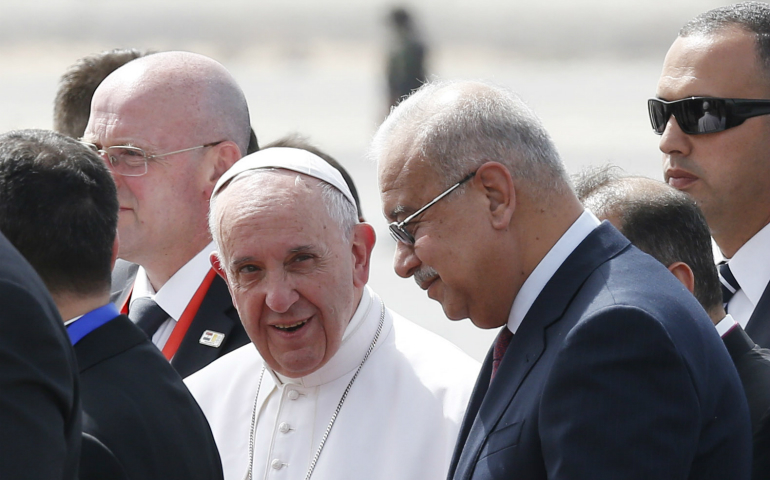 Pope Francis walks with Egyptian Prime Minister Prime Minister Sherif Ismail, right, as he arrives at the international airport in Cairo April 28. The pope was making a two-day visit to Egypt. (CNS photo/Paul Haring)
At a peace conference hosted at the world's oldest center of Muslim learning Friday, Pope Francis called on global religious leaders to condemn violent extremism and "unmask violence that masquerades as purported sanctity."
In his first speech during a tightly controlled two-day visit to the Egyptian capital, where only three weeks ago Muslim extremists killed dozens in bombings at two Christian churches, the pope told faith leaders it was their duty to "condemn [such] ... idolatrous caricatures of God."
Recalling that Moses was given the Ten Commandments on Mount Sinai, which sits across the Gulf of Suez from Cairo, the pope reminded the participants in this Muslim-majority country one of those commands: "Thou shalt not kill."
"Together ... let us say once more a firm and clear 'No!' to every form of violence, vengeance and hatred carried out in the name of religion or in the name of God," Francis said. "Together let us affirm the incompatibility of violence and faith, belief and hatred."
The pope spoke April 28 at Al-Azhar, a university and mosque founded in the 10th century that is considered the highest theological institution in Sunni Islam.
The remarks were the first in what are expected to be a series of forthright speeches Francis will give during his 27-hour visit to Egypt, where the pope is balancing inter-religious encounter with delicate geopolitical considerations.
The latter considerations were on display both in the speech at Al-Azhar and in an address Francis gave later Friday afternoon to Egypt's political leaders.
Toward the end of his remarks at Al-Azhar, the pope referenced the rise of populist movements, saying it was "disconcerting to note" that "demagogic forms of populism are on the rise."
"These certainly do not help to consolidate peace and stability," Francis said. "No incitement to violence will guarantee peace, and every unilateral action that does not promote constructive and shared processes is in reality a gift to the proponents of radicalism and violence."
In his speech to Egyptian political leaders, Francis told Egyptian President Abdel Fattah el-Sisi that the country has a "unique role" to play in the Middle East in "seeking solutions to pressing and complex problems that need to be faced now to avoid the spread of worse violence."
Referring to the Old Testament character of Joseph, who saved the Egypt of his day from famine by storing food during an abundant period, the pope said that Egypt today must "save this beloved land from a famine of love and fraternity."
Indirectly referencing the April 9 attacks that killed 45 people, the pope told the president: "No civilized society can be built without repudiating every ideology of evil, violence and extremism that presumes to suppress others and to annihilate diversity."
"It is our duty to unmask the peddlers of illusions about the afterlife, those who preach hatred in order to rob the simple of their present life and their right to live with dignity," said Francis. "It is our duty to dismantle deadly ideas and extremist ideologies, while upholding the incompatibility of faith and violence, God and acts of murder."
Francis landed in Cairo April 28 to what appeared to be some of the strongest security precautions yet taken for a papal visit.
Military troops circled the pope's plane as he descended onto the tarmac. Several pick-up trucks near the troops had been outfitted with machine guns in their flatbeds. Security officials were also using mirrors to search under cars as they came in and out of the area.
As the papal entourage drove to the Al-Azhar conference, armored Humvee-style automobiles lined the route at periodic intervals. Cell service was disabled at the event in an apparent attempt to prevent use of radio-activated explosives.
To keep the pope's whereabouts unknown for his safety, the Vatican asked journalists to withhold from reporting on the locations of the April 28 events until after they had occurred.
The choice of location for the pope's meeting with political leaders was also striking.
In most countries, the pope meets with leaders at a presidential palace or parliamentary building. For this visit, he met with the leaders instead at a local hotel, chosen apparently because it was less than a mile away from the building at Al-Azhar where the peace conference was being held and would reduce the amount of time Francis was on the streets of Cairo.
Advance schedules of the pope's visit distributed to Egyptians likewise did not mention that the pope will later be visiting the headquarters of the Coptic Orthodox Church of Alexandria, whose churches were attacked April 9. The church is about 10 miles from the hotel where Francis met with political leaders.
Francis spoke at Al-Azhar during a conference hosted by the institution's leader, Grand Imam Ahmed el-Tayeb. In lengthy remarks welcoming the pontiff, el-Tayeb said faith leaders have to work to "liberate religions from false concepts."
"Islam is not a religion of terrorism because a group of followers carelessly manipulates Islamic texts and misinterprets them ignorantly," said the imam. "If we open doors for accusations as opened against Islam, no religion, regime, civilization, or history would stand innocent from violence and terrorism."
After el-Tayeb's speech, Francis and the imam embraced in a cheek-to-cheek hug that lasted several moments.
Francis began his remarks by telling participants to the conference that he wished to offer only "a few thoughts, drawing on the glorious history of this land." He focused on the history of Egypt as a land of civilizations and a land of covenants.
The pope said the country had been striving for knowledge since ancient times, when it pioneered mathematical and astronomical discoveries.
"The quest for knowledge and the value placed on education were the result of conscious decisions on the part of the ancient inhabitants of this land," said the pope. "Similar decisions are needed for our own future, decisions of peace and for peace, for there will be no peace without proper education of coming generations."
Francis also gave a lengthy reflection on what it means to have wisdom.
"Wisdom seeks the other, overcoming temptations to rigidity and closed-mindedness; it is open and in motion," he said.
"Wisdom tirelessly seeks, even now, to identify opportunities for encounter and sharing ... it learns that evil only gives rise to more evil, and violence to more violence, in a spiral that ends by imprisoning everyone," he continued.
The pope identified three things that can assist in efforts at inter-religious dialogue: respecting diverse identities, accepting differences, and having sincerity of intentions.
"Those who are different ... should not be seen or treated as enemies, but rather welcomed as fellow-travelers in the genuine conviction that the good of each resides in the good of all," said Francis. "Dialogue ... is not a strategy for achieving specific goals but rather a path to truth, one that deserves to be undertaken patiently in order to transform competition into cooperation."
The pope also told the participants that people of faith are called to be "builders of civility."
"The only alternative to the civility of encounter is the incivility of conflict," he said. "To effectively counter the barbarity of those who foment hatred and violence, we need to accompany young people ... teaching them to respond to the incendiary logic of evil by patiently working for the growth of goodness."
Francis' trip continues April 28 with a visit to the Coptic Orthodox's St. Mark Cathedral, where he will meet and speak with their leader, Pope Tawadros II.
The Coptic Orthodox Church of Alexandria is a small minority in Egypt, where about 90 percent of the country's population of some 92 million identifies as Muslim.
The church traces its founding to the apostle Mark and is one of six churches that form Oriental Orthodoxy. Those churches, which have about 84 million members together, recognize only the first three ecumenical councils, breaking off from the other Christian churches in the fifth century.
Francis' Egypt visit will conclude April 29 with a Mass for the country's small Catholic population and a meeting with priests, seminarians and members of religious orders. The pope is due to return to Rome that evening.
[Joshua J. McElwee is NCR Vatican correspondent. His email address is jmcelwee@ncronline.org. Follow him on Twitter: @joshjmac.]