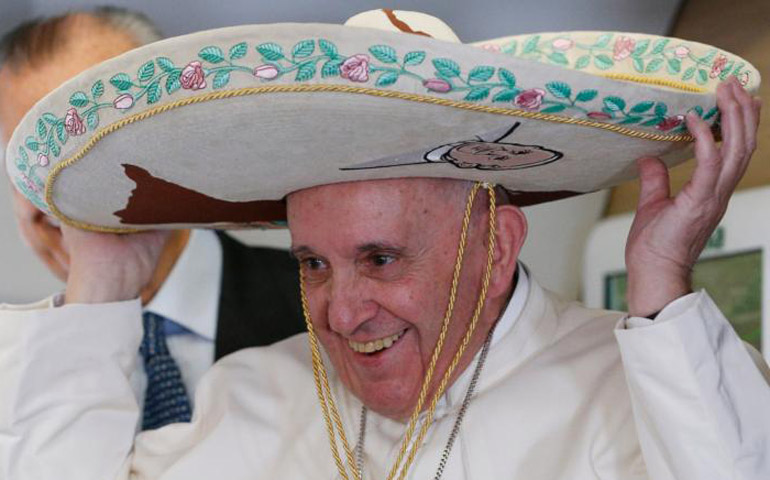 Pope Francis tries on a sombrero while meeting journalists aboard his flight to Havana Feb. 12. (CNS/Paul Haring)
ABOARD THE PAPAL PLANE TO HAVANA — February 12, 2016
Pope Francis has given extra incentive for success in the ongoing peace talks between the Colombian government and FARC militants, saying that if they advance sufficiently he will travel to the country in 2017.
The pontiff made the statement while speaking to a reporter aboard the papal plane Friday, which is flying from Rome to Havana, Cuba for the pope's historic meeting with Russian Orthodox Patriarch Kirill.
Colombian reporter Nestor Ponguta Puerto said he told the pope that Bogota, Colombia Cardinal Rubén Salazar Gómez had said recently he would like the pontiff to consider a trip. Ponguta said Francis responded that he would come, but only if the peace talks advance.
The Colombian government and the militants have been fighting since the 1960s. A path to a potential peace deal was announced last September, after three years of negotiations between the parties hosted by Cuban President Raul Castro.
According to the September agreement, the Colombian government and the FARC militants are supposed to sign a final deal by the end of March. FARC has committed to putting down its weapons within 60 days after the pact is reached.
---
Editor's note: NCR will have reporters in Mexico (Chiapas and Juarez) and El Paso, Texas, and for the pope's six-day trip. You can read all their reporting right here: Pope Francis in Mexico.
---
News of Francis' intention to visit Colombia came as part of the pontiff's traditional visit with journalists at the beginning of the papal flight. The pope greeted the journalists one-by-one, spending more than 30 minutes shaking hands and speaking individually with people.
One Mexican reporter even gave the pope a short shoeshine, explaining that he would shine shoes as a child to make money. The reporter then gifted the pope a small shoeshine kit, brushes included.
Francis is to land in Havana for a brief four hour visit Friday afternoon, where he will have a meeting with Kirill. The two will then sign of a joint declaration between the Roman Catholic and Russian Orthodox churches.
The pontiff will then continue on to Mexico City for the start of his six-day visit to Mexico.
[Joshua J. McElwee is NCR Vatican correspondent. His email address is jmcelwee@ncronline.org. Follow him on Twitter: @joshjmac.]