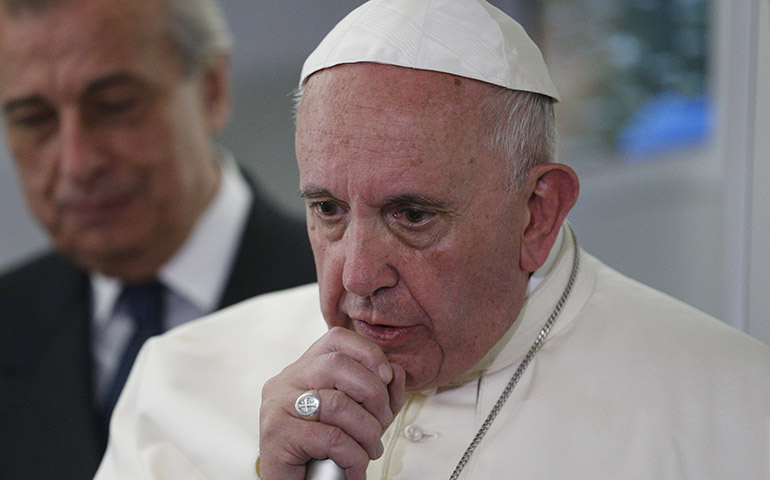 Pope Francis answers questions from journalists aboard his flight from Ciudad Juarez, Mexico, to Rome Feb. 17. (CNS/Paul Haring)
Aboard the papal plane from Mexico — February 18, 2016
Pope Francis has signaled an opening on the use of contraceptives by Catholics, indicating that attempting to avoid pregnancy in the face of circumstances like the spread of the deadly Zika virus may not always be considered evil.
In a press conference aboard the papal flight to Rome from Mexico, the pontiff was asked if the grave nature of the virus -- which is linked to serious birth defects and is spreading quickly -- might make abortion a "lesser evil" for a mother faced with the choice of having a malformed child.
While the pope firmly rejected the use of abortion, he said that avoiding pregnancy through contraception is not always evil, mentioning that Pope Paul VI had allowed women religious facing horrific situations of violence in Africa to use it.
"Abortion is not a lesser evil," Francis replied to the question. "It is a crime. It gets rid of one to save another. It's what the mafia does. It is a crime. It is an absolute evil."
But the pope continued: "The great Paul VI in a difficult situation in Africa permitted sisters to use contraception for cases of rape."
"Do not confuse the evil of avoiding pregnancy in and of itself with abortion," said Francis. "Abortion is not a theological problem. It is a human problem, a medical problem. You kill one person to save another."
"It is an evil in itself," said the pope. "But is not a religious evil, first of all. It is a human evil. Because it is evidently a human evil, like every killing it is condemned."
"Avoiding pregnancy is not an absolute evil," said Francis. "In certain cases, like in that which I mentioned of Blessed Paul VI, it was clear."
Francis was speaking Wednesday in an hour-long press conference aboard the papal plane travelling home from Mexico, where he visited six cities in six days. During the conference he also questioned U.S. presidential frontrunner Donald Trump's Christianity and spoke on treatment of bishops who inappropriately handle clergy sexual abuse.
The pope's remarks on contraception may be seen by some as a significant opening from the highest levels of the church, as Paul VI banned the use of artificial contraceptives in his 1968 encyclical Humanae Vitae. While church teaching normally allows women to use birth control for health reasons, the intent of the use cannot be to prevent procreation.
The church's position on the matter has been criticized by many U.S. Catholics. Recent popes have been frequently questioned about why there could be no exception to the ban in difficult situations, especially with the example of the use of condoms to stop the spread of HIV/AIDS.
Francis himself faced that question coming home from his November trip to three African countries, but demurred from giving a specific answer, instead saying the question was "too small" and reminded him of how people asked Jesus if it was licit to heal on the Sabbath.
"I do not like to descend into reflections that are so casuistic when people are dying," the pope said then. "I would say to not think if it is licit or not licit to work on the Sabbath. I say to humanity: Make justice, and when all can earn a living, when there is not injustice in this world, we can speak of the Sabbath."
Zika is a mosquito-born disease that has been spreading quickly in recent months throughout Latin America. The disease has been tentatively linked to causing microcephaly, an abnormal smallness of the head in newborn babies that sometimes causes incomplete brain development.
[Joshua J. McElwee is NCR Vatican correspondent. His email address is jmcelwee@ncronline.org. Follow him on Twitter: @joshjmac.]