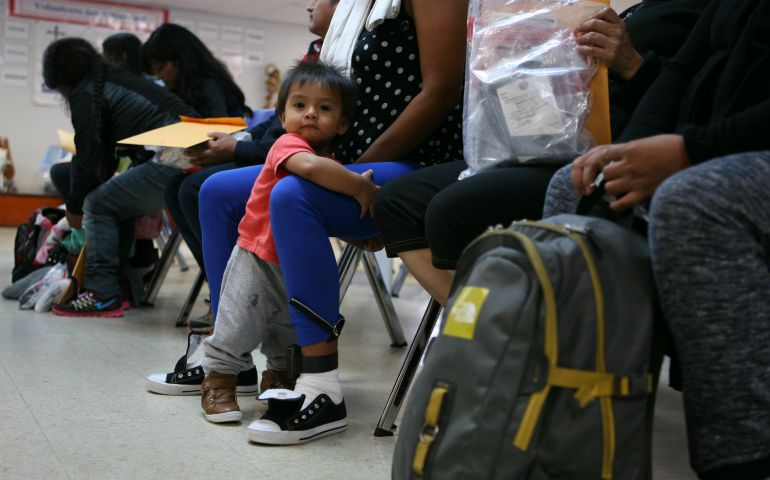 An 11-month-old Honduran child clings to his mother at the Humanitarian Respite Center in McAllen, Texas. Shelter volunteers were on hand to help immigrants just released from Border Patrol or ICE custody get transportation to other parts to the United States. (Nuri Vallbona)
McAllen, Texas — June 21, 2018
The journey was long and hard. For 15 days and roughly 1,443 miles, Cristina Melgar and her two children traveled by bus and truck to get from El Salvador to the Texas border. Finally on a raft that deflated while crossing the Rio Grande, they made it safely to shore.
But the smugglers, whom she described as "muchachos endrogados" — drugged up guys — demanded more payment. They had already taken all she had. When she couldn't pay, they struck her daughter's leg and a struggle ensued. She and her children managed to escape, she said, and walked two hours until they found a border patrol agent near McAllen, Texas.
She thought she had reached safety in the United States. "Help me," she said, and turned herself in. After her 16-year-old daughter was taken away in an ambulance because of her injured leg, Melgar and her son were transported to a processing center where he was separated from her.
"They just take them; they don't tell you anything," Melgar said wiping away tears, in the Humanitarian Respite Center, a shelter established and run by Catholic Charities in the Rio Grande Valley. "I had never been separated from my children."
More than 2,300 immigrant children have been separated from their parents after Attorney General Jeff Sessions announced a zero-tolerance policy for border crossers, according to Department of Homeland Security statistics. If they crossed illegally, instead of at a point of entry, they faced criminal prosecution and their children could be placed in the custody of the Office of Refugee and Resettlement.