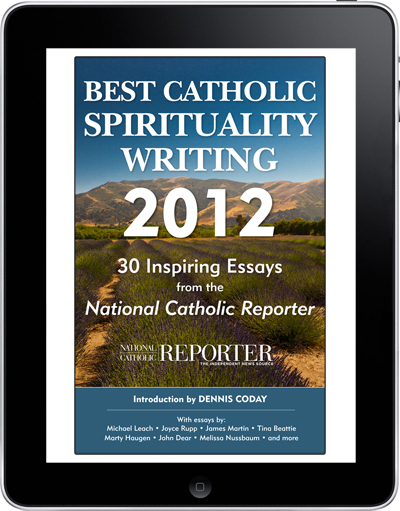 Best Catholic Spirituality Writing 2012
$9.99

This eBook is a collection of 30 of the finest spirituality essays published in the National Catholic Reporter during 2012. Since its founding in 1964, NCR has published many well-known authors of Catholic spiritual writing. From prayer to creation spirituality; the legacy of the Second Vatican Council to Facebook, NCR's Best Catholic Spirituality Writing 2012 takes you through the Catholic liturgical year with reflections from 21 authors.

Available from these eBook sellers:
Apple iBooks store
Overdrive (visit the Overdrive tablet app)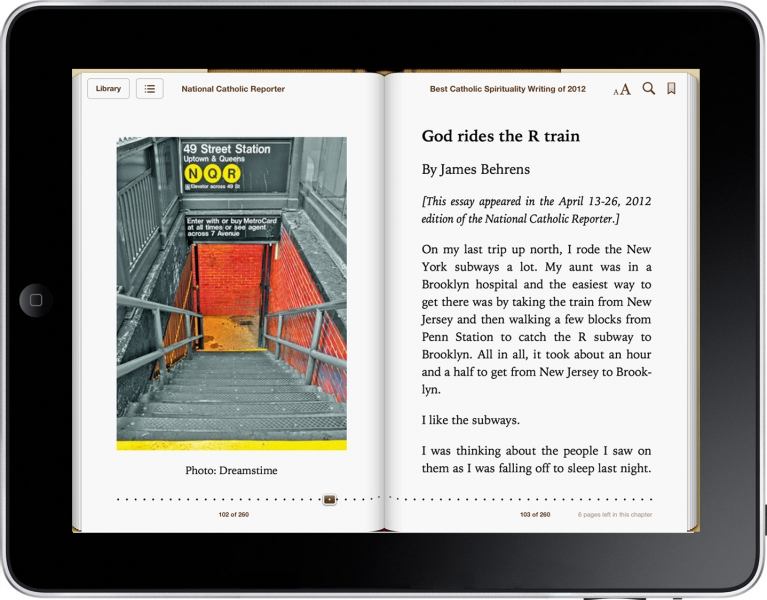 Contents:
Introduction by NCR editor Dennis Coday
1. Everything I'd ever need to know about God, by Michael Leach
2. Real security begins when we heed the God of peace, by John Dear
3. Praying with the eye of the soul, by Kathy Coffey
4. Hugs are an outward sign of inward grace, by Michael Leach
5. Bringing God to the rhythms of our day, by Michael Sean Winters
6. Sighting the kingdom in Minneapolis, by Joe McHugh
7. At last, she is ready to go, by Melissa Nussbaum
8. Expressions of God's astonishing universe, by Michael Morwood
9. Love is the love of being loving, by Michael Leach
10. Fears in the garden, by Jane and Robert McAllister
11. Good Friday and Easter Sunday are one, by Michael Leach
12. My, yours, ours: a prayer out of balance, by Melissa Nussbaum
13. God rides the R train, by James Behrens
14. Holy biscuits in Ethiopia, by Miriam Therese Winter
15. Omigod, I am becoming my mother! By Michael Leach
16. Around the death bed and the birth bed, by Melissa Nussbaum
17. Crafting a spirituality of family creativity, by Heidi Schlumpf
18. My days with the other old yoga ladies, by Sidney Callahan
19. How to take a soul picture, by Joyce Rupp
20. Angels in the radiation lab, by Claire Bangasser
21. Loving the Earth, from resource to reverence, by Sharon Abercrombie
22. It all tastes like love, by Fran Rossi Szpylczvn
23. Embarrassment is a doorway to grace, by Michael Leach
24. Living in the light of your face, by Joe McHugh
25. Under the moon of Vatican II, by Nicole Sotelo
26. A mystery beyond proof, by Tina Beattie
27. A challenging conversation, by Marty Haugen
28. The thin places where God speaks, by Jay Cormier
29. Facebook can be a conduit of grace, by James Martin
30. A Challenging Conversation, by Marty Haugen

NCR will produce additional eBooks in the future from past NCR content. Stay tuned for more information.