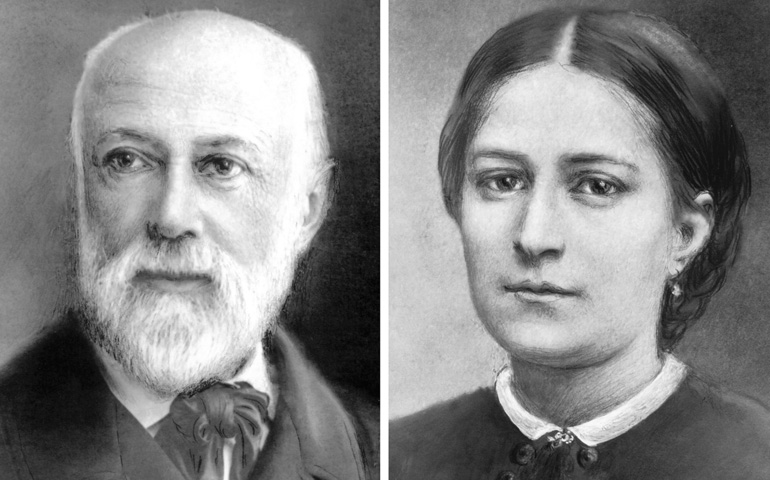 Blesseds Louis and Marie Zelie Guerin Martin, the parents of St. Therese of Lisieux (CNS/Courtesy of Sanctuary of Lisieux)
Vatican City — June 29, 2015
The parents of St. Therese of Lisieux will be canonized Oct. 18 at the Vatican during the Synod of Bishops on the family.
Louis Martin (1823-1894) and Marie Zelie Guerin Martin (1831-1877) will be the first married couple with children to be canonized in the same ceremony. Other married couples are among the blesseds of the church.
Pope Francis issued the decree approving their canonization Saturday during the public consistory on canonizations at the Vatican; more than 40 cardinals attended.
During the consistory, Cardinal Angelo Amato, prefect of the Congregation for Saints' Causes, said the couple lived an "exemplary life of faith, dedication to ideal values, united to a constant realism, and persistent attention to the poor," according to Vatican Radio.
The cardinal said the French couples serves as an "extraordinary witness of conjugal and family spirituality."
Married in 1858, the couple had nine children; four died in infancy and five entered religious life. During their 19-year marriage, the couple was known to attend Mass daily, pray and fast, respect the Sabbath, visit the elderly and the sick, and welcome the poor into their home.
They will be canonized along with Italian Fr. Vincenzo Grossi (1845-1917), founder of the Institute of the Daughters of the Oratory, and Spanish Sr. Maria of the Immaculate Conception (1926-1998), a member of the Congregation of the Sisters of the Company of the Cross, whose canonizations the pope also approved Saturday.