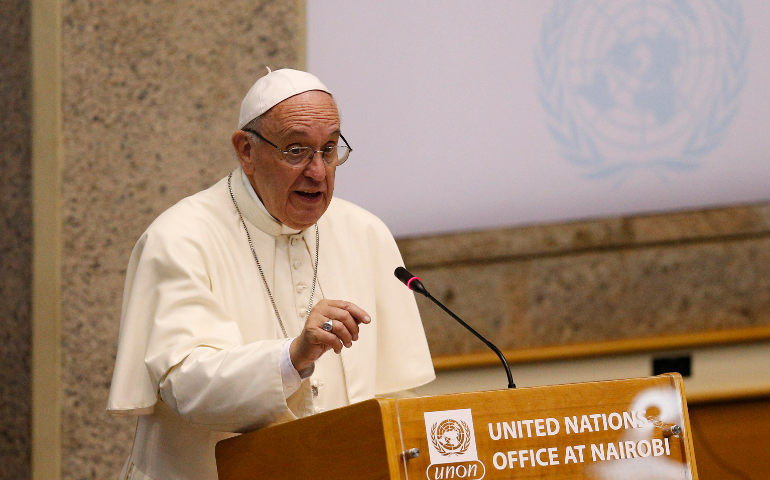 Pope Francis at the United Nations Office in Nairobi. (CNS/Paul Haring)
Nairobi, UNITED NATIONS — November 26, 2015
Pope Francis has said that failure of the international community to reach agreement on measures to fight climate change at next week's U.N. Climate Conference in Paris would be "catastrophic," and has called for a new global energy system that relies on "little or no" use of carbon.
In an address Thursday to the U.N. offices in Nairobi during his Nov. 25-30 trip to three African countries, the pontiff made some of his most forceful remarks for protection of the environment -- mentioning the high stakes of the global leaders' discussions and even proposing a new way of energy use based on three objectives.
Mentioning the Paris talks, beginning Sunday and formally known as the 21st Conference of the Parties (COP21), the pope said bluntly: "It would be sad, and I dare say even catastrophic, were particular interests to prevail over the common good."
"We are confronted with a choice that cannot be ignored: either to improve or to destroy the environment," he continued.
The pontiff said that the Paris meeting "represents an important stage" in a developing a new global energy system, which he said should be based on three pillars: "minimal use of fossil fuels," energy efficiency and "use of energy sources with little or no carbon content."
"We are faced with a great political and economic obligation to rethink and correct the dysfunctions and distortions of the current model of development," said Francis.
"I express my hope that COP21 will achieve a global and 'transformational' agreement based on the principles of solidarity, justice, equality and participation," the pope continued. "An agreement which targets three complex and interdependent goals: lessening the impact of climate change, fighting poverty and ensuring respect for human dignity."
Francis was speaking Thursday in his second address in as many months in a U.N. headquarters building, following his Sept. 25 remarks to the U.N. the general assembly in New York during his visit to the U.S.
While the pontiff cited frequently from previous writings and speeches he has made on environmental and global issues -- particularly his recent encyclical letter Laudato Si' -- he also expressed an urgency with his words, stating at one point that "we have still have time" to save the Earth.
He also called for new global reeducation and training programs to help people understand the impact of their energy choices.
"Nothing will happen unless political and technical solutions are accompanied by a process of education which proposes new ways of living," said Francis. "A new culture."
"This calls for an educational process that fosters in boys and girls, women and men, young people and adults the adoption of a culture of care -- care for oneself, care for others, care for the environment -- in place of a culture of waste, a 'throw-away culture' where people use and discard themselves, others and the environment," he said.
Identifying the effects of such a culture with its impact on individual people, the pope said society has elevated aspects of the global market system to the status of idols.
"Many are the faces, the stories and the evident effects on the lives of thousands of persons whom the culture of deterioration and waste has allowed to be sacrificed before the idols of profits and consumption," said Francis.
"We need to be alert to one sad sign of the 'globalization of indifference:' the fact that we are gradually growing accustomed to the suffering of others, as if it were something normal," he continued.
"Many lives, many stories, many dreams have been shipwrecked in our day," he said. "We cannot remain indifferent in the face of this. We have no right."
Francis also critiqued the functioning of the World Trade Organization in his address, saying that while the global regulatory body has worked to create economic development that "we have yet to attain an international system of commerce that is equitable and completely at the service of the battle against poverty and exclusion."
The pope mentioned the WTO in reference to its 10th ministerial conference, which will be held in Nairobi Dec. 15-18. He especially called for access to healthcare for all and for new discussions on intellectual property rights to ensure "a minimum of health care and access to basic treatment for all."
"Certain health issues, like the elimination of malaria and tuberculosis, treatment of so-called orphan diseases, and neglected sectors of tropical medicine, require urgent political attention, above and beyond all other commercial or political interests," said the pontiff.
Francis also spoke against human trafficking and illegal trade in diamonds and other precious stones, saying: "This situation too is a cry rising up from humanity and the earth itself, one which needs to be heard by the international community."
The U.N. office in Nairobi is the organization's headquarters in Africa and houses both the U.N. Environment Program and the U.N. Human Settlements Program.
The pope was welcomed to the office Thursday by the executive directors of both programs and the general director of the office, Sahle-Work Zewde. Before his address, Francis and Zewde also symbolically planted a tree outside the office building.
Francis spoke about that planting at the beginning of his remarks, saying that planting trees is "first and foremost an invitation to continue the battle against phenomena like deforestation and desertification."
"It reminds us of the importance of safeguarding and responsibly administering those 'richly biodiverse lungs of our planet,' which include, on this continent, 'the Congo basins,' a place essential 'for the entire earth and for the future of humanity,'" said the pope, quoting Laudato Si'.
"Planting a tree is also an incentive to keep trusting, hoping, and above all working in practice to reverse all those situations of injustice and deterioration that we currently experience," said Francis.
The pontiff is visiting Kenya through mid-day Friday, when he will leave for Uganda before heading to the Central African Republic on Sunday. Earlier on Thursday he met with Kenyan priests, religious, and seminarians and held an open-air Mass with tens of thousands amidst pouring rain at the University of Nairobi.
[Joshua J. McElwee is NCR Vatican correspondent. His email address is jmcelwee@ncronline.org. Follow him on Twitter: @joshjmac.]