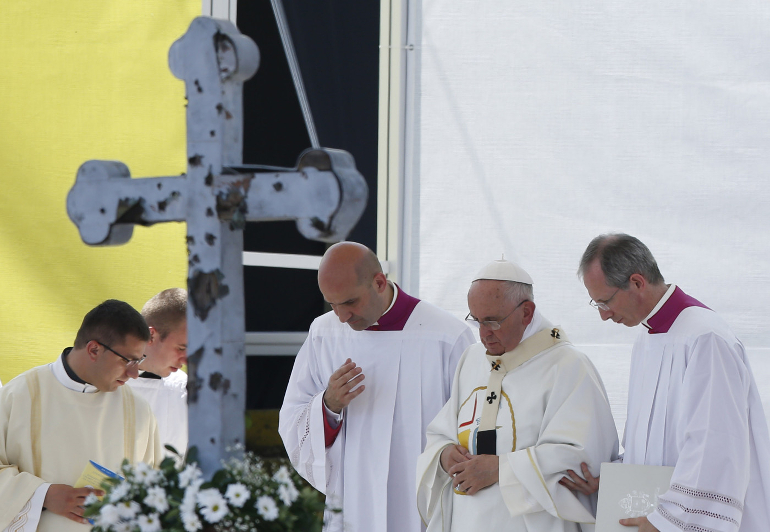 Celebrating Mass in Sarajevo's Kosevo Stadium, Pope Francis walks near a cross punctured by ammunition during the 1992-1995 Bosnian War. (CNS/Paul Haring)
Sarajevo, Bosnia-Herzegovina — June 6, 2015
Pope Francis made a concerted call for ongoing efforts at reconciliation in the Balkans during a whirlwind day-tour here Saturday, forcefully telling local and regional leaders that they must continually work to maintain peace across Southeast Europe.
Crossing the Adriatic Sea from Rome for eight meetings in less than 11 hours in the Bosnia and Herzegovinian capital, the pontiff continually exhorted government officials, Catholics, and other religious leaders to keep working for peace.
In the first hours of the visit, the pope tackled head-on continuing tensions between ethnic groups in the country following the 1992-95 Bosnian War -- which killed an estimated 100,000 people, displaced millions, and saw Sarajevo endure the longest military siege of a city in modern times.
Later in the day, the pope reflected on harrowing tales of the pain and suffering endured by Catholics during the war. Addressing several priests and religious sharing personal stories of torture and kidnapping, Francis spoke from the heart for 15 minutes, moving many to tears.
Addressing tens of thousands during a morning Mass at the city's Olympic stadium, Francis said those in the city know too well the results of war -- which he said means "children, women and the elderly in refugee camps" and "countless shattered lives."
"Today, dear brothers and sisters, the cry of God's people goes up once again from this city, the cry of all men and women of good will: War never again!" the pope exhorted.
Then, Francis said that Jesus' message that "Blessed are the peacemakers" is "always applicable, in every generation." But, he said, Jesus was very specific in how he said that phrase.
"[Jesus] does not say: 'Blessed are the preachers of peace,' since all are capable of proclaiming peace, even in a hypocritical, or indeed [a] duplicitous, manner," said Francis.
"No," the pope continued. "[Jesus] says: 'Blessed are the peacemakers,' that is, those who make peace. Crafting peace is a skilled work: it requires passion, patience, experience and tenacity."
"Peacemaking is a work to be carried forward each day, step by step, without ever growing tired," said the pontiff.
While Francis' homily was directed mainly at the country's small Catholic population, the pope stressed a very similar message in earlier remarks to government authorities at the country's presidential palace.
Mentioning specifically each of the country's three dominant ethnic groups -- Croats, Serbs, and Bosnians -- the pontiff said their common initiatives for peace "offer a witness to the entire world that such cooperation among varying ethnic groups and religions in view of the common good is possible."
Francis also said their cooperation shows that "a plurality of cultures and traditions can coexist" and "that even the deepest wounds can be healed by purifying memories and firmly anchoring hopes in the future."
Perhaps addressing a decades-long process to consider European Union membership for the country, the pope also called Bosnia and Herzegovina "an integral part of Europe" -- saying that "the successes and tragic experiences" of the country are "fully integrated into the latter's history of successes and tragedies."
Security for the pope's visit in the capital city Saturday was extensive, with lines of armed soldiers and guards along the path of the pope's caravan. Upon landing, several military style helicopters were flying over the just-landed papal plane and lookout guards were posted atop the airport's control tower.
Small crowds of people lined the caravan route, holding signs. The Mass at the stadium, which officials say has a capacity of 60,000, seemed full.
As the papal convoy made its way towards the presidential palace, signs of the war were still clear. Buildings still had bullet-holes in their walls, and blackened areas that had been damaged by blasts. A cemetery was placed just off the highway, an easily visible landmark of the violence and death.
Primarily divided along three ethnic lines, Bosnia and Herzegovina is governed by a three-person rotating presidency from each of the dominant ethnic groups -- one Croat, one Bosniak, and one Serb.
The Catholic community is mostly Croat and makes up about 15 percent of the country's population of 3.9 million. The country is about 31 percent Serbian Orthodox and about 40 percent Muslim.
One Croatian internationally recognized for her efforts at peace-building said the pope's visit could have an impact on the continuing stability of the region.
"[There] is still a deep political crisis in this unstable region," said Katarina Kruhonja, co-founder of the Centre for Peace, Non-violence and Human Rights in Croatia.
Citizens in Bosnia and Herzegovina, Kruhonja said, "do not see achievements towards sustainable peace and stability."
"From my perspective, it is great and significant that people, regardless of religion ... welcome the visit by Pope Francis," said Kruhonja, who was a joint recipient of the Right Livelihood Award in 1998 for her center's work.
The Croatian said many in the region hope Francis' visit will work "towards influencing the churches [and] clergy to support the social process of reconciliation."
Later Saturday afternoon, Francis held separate meetings with Catholic priests and religious from the area, with ecumenical and inter-religious representatives, and with young people.
Heading to the local cathedral to meet priests and religious, the pope heard three moving and intense personal testimonies on how the Bosnian War affected the lives of Catholics.
Clearly struck by the encounter, with what appeared to be tears in his eyes, the pontiff put aside his text and said he was having trouble finding words.
One of those who spoke was a Franciscan priest, named Jozo Puškarić. He recalled how he and many of his parishioners were taken to a concentration camp during the war.
Life in the camp, Puškarić said, was inhuman and time was counted not by days but by seconds. 120 days, he said, was like 120 years or more. But addressing the topic of reconciliation, the Franciscan said he had chosen to forgive those who detained him "because Jesus invites us to forgive."
"Forgiveness was taught to me by my parents, my priests, sisters, and teachers," Puškarić said, according to a working translation of his text. "Forgiveness creates the space for the coming of the Reign of God in the heart of man and only that way can we know in the other a brother or a sister."
Addressing the stories directly, Francis asked those in the room to remember the stories of those who had come before them, saying that their witness transmits the faith like blood in a body.
The pontiff then pleaded with them not to return cruelty for cruelty.
"I would like to tell you that this was a story of cruelty, that today, in this world war, we see much, much cruelty," said Francis. "Always do the opposite of cruelty. Have attitudes of tenderness, fraternity, of forgiveness, and bring the cross of Jesus Christ. Be small witnesses of the cross of Jesus."
"In your blood, in your vocation, there is the blood, there is the vocation of these three martyrs and there is the blood and there is the vocation of many priests and seminarians," he said.
"Forgive!" Francis exhorted the religious. "A man and a woman that are consecrated in the service of the Lord and do not know to forgive does not work."
"Forgiving a friend that has said a swear word ... or a sister that is jealous of you is not difficult," said the pontiff. "Forgiving someone who beats you up, who tortures you, who hits you in the head, who makes threats to kill you, this is difficult."
Those who presented the testimony, Francis said, "they have done it and they can teach us how to do it."
The inter-religious encounter saw speeches by Francis as well as by Muslim, Christian Orthodox, and Jewish leaders. For his part, the pope called for inter-religious dialogue to go beyond discussions between religious leaders but to extend to all believers.
The Muslim leader, Grand Mufti of Bosnia and Herzegovina Husein ef. Kavazović, focused his remarks on identifying what he saw as similarities between Islamic and Catholic teachings.
"Obedience to the one and only God means to be at the service of all men," Kavazović said.
Saturday's visit to Sarajevo is Francis' eighth outside Italy and his first since his visit to Sri Lanka and the Philippines in January. Themes of peace, reconciliation, and interreligious dialogue have pervaded each of his foreign visits.
Briefly addressing journalists on the papal plane from Rome, Francis said that Sarajevo is a city "that has suffered so much in history and [is] now [on] a good path of peace."
"For this I am going there, [as] a sign of peace and with a prayer of peace," said the pope.
[Joshua J. McElwee is NCR Vatican correspondent. His email address is jmcelwee@ncronline.org. Follow him on Twitter: @joshjmac.]
A version of this story appeared in the June 19-July 2, 2015 print issue under the headline: Be peacemakers, pope tells Sarajevo.