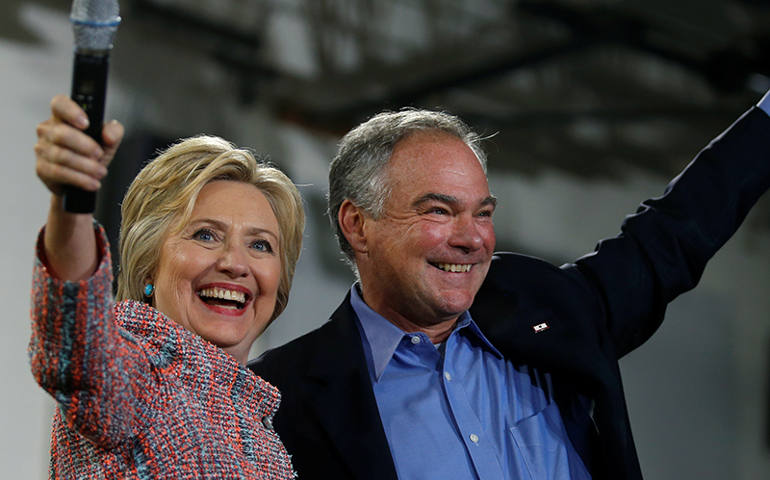 Democratic presidential candidate Hillary Clinton and U.S. Sen. Tim Kaine, D-Va., wave to the crowd during a campaign rally at Ernst Community Cultural Center in Annandale, Va., on July 14, 2016. (Courtesy of REUTERS/Carlos Barria)
Presumptive Democratic presidential nominee Hillary Clinton announced Tim Kaine, the junior Democratic senator from Virginia and former governor of that state, as her vice presidential running mate Friday.
Kaine, a Roman Catholic, will appear with Clinton, a Methodist, at next week's Democratic National Convention in Philadelphia.
Here are five faith facts about the new vice presidential candidate.
1. He was taught by Jesuits.
Kaine was raised Catholic in the Kansas City area*. His parents were so devout, Kaine told C-SPAN, that "if we got back from a vacation on a Sunday night at 7:30 p.m., they would know the one church in Kansas City that had an 8 p.m. Mass that we can make." He attended an all-boys Jesuit high school in Kansas City and worked for a year with Jesuit missionaries in Honduras, where he taught welding -- his father's trade -- and carpentry.
He and his wife attend St. Elizabeth Catholic Church in Richmond, Va., which has a predominantly African-American congregation. He co-founded a men's study group there.
2. Kaine says he separates the personal from the political.
Kaine is personally against abortion and the death penalty and has sometimes spoken against same-sex marriage and gay adoption, all of which aligns with Catholic teaching. But he has taken different stances in his political life. He has upheld Roe v. Wade and told Chuck Todd of "Meet the Press": "I have taken the position, which is quite common among Catholics -- I have got a personal feeling about abortion, but the right rule for government is to let women make their own decisions."
As Virginia's governor, he oversaw 11 state executions. "I have a moral position against the death penalty," he said in 2012. "But I took an oath of office to uphold it. Following an oath of office is also a moral obligation."
He was fairly late to supporting same-sex marriage, saying in 2013, "I believe all people, regardless of sexual orientation, should be guaranteed the full rights to the legal benefits and responsibilities of marriage under the Constitution."
And while Kaine opposed gay adoption in 2005 -- also in line with Catholic Church teaching -- by 2012 he had reversed his position.
3. He favors allowing women to become priests.
When Pope Francis visited Washington, D.C., in September 2015, Kaine attended the pontiff's historic address to Congress. Before the speech, he issued a statement. "If women are not accorded equal place in the leadership of the Catholic Church and the other great world religions, they will always be treated as inferiors in earthly matters as well," Kaine said. "There is nothing this Pope could do that would improve the world as much as putting the Church on a path to ordain women."
4. Kaine is a fan of Pope Francis' "Laudato Si'."
Not all Catholics thought the pontiff should write an encyclical on a secular issue such as global warming, but Kaine agrees with Francis' framing of the issue as one of faith. "I'm sure he's not going to opine on whether a carbon tax is better than a cap-and-trade mechanism," Kaine said of the pope days before the encyclical was published in 2015. "That doesn't need to be where he goes -- but to say, 'You know, you guys and everybody in power these days, you've got the next generation's future in your hands, and you don't want to have to face that question later in life: With the science what it was, and with you having the opportunity to do something about it, why did you choose not to?'"
5. Kaine speaks openly about his faith.
"My faith is central to everything I do," he once told the website Patch. "My faith position is a Good Samaritan position of trying to watch out for the other person." And in a recent C-SPAN interview he said: "I do what I do for spiritual reasons. I'm always thinking about the momentary reality but also how it connects with bigger matters of what's important in life."
*An earlier version of the article said Kane was raised in Missouri. His family lived in and he attended schools until 9th grade in Overland Park, Kansas, a suburb of Kansas City which hugs the Missouri state line. Kane attended Jesuit-run Rockhurst High School, which is in Kansas City, Mo.