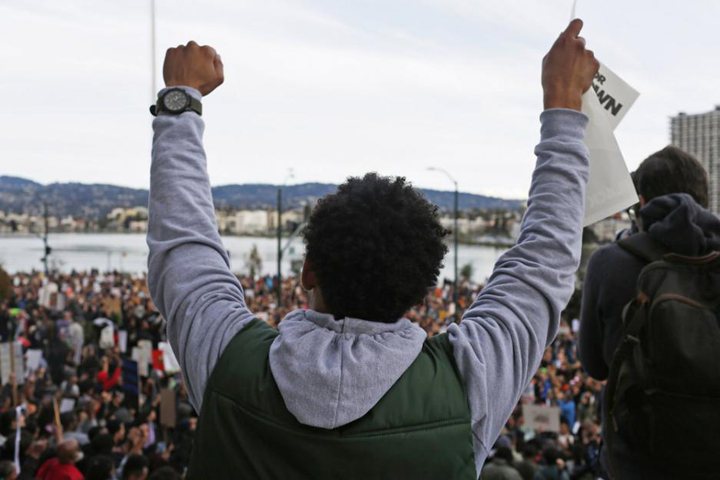 A demonstrator in Oakland, California, protests Dec. 13, 2014, against police violence. (CNS/Reuters/Stephen Lam)
Editor's note: This week, GSR is focusing on the U.S. prison system and sisters who work with current and former inmates and advocate for a change in policies. This is the final of four parts. Read Part 1, Part 2 and Part 3.
Dominican Sr. Mary Sean Hodges minces no words when describing mass incarceration in the United States: "We have a huge prison problem, and I'm going to say a lot of it is politics."
As the executive director of the Partnership for Re-entry Program in Los Angeles, Hodges has spent 14 years up close and personal with the policies and legislation that have caused the systematic extraction of millions of already marginalized people from mainstream society and locked them behind bars -- sometimes for decades at a time.
The fact that marginalized groups are targeted, Hodges said, is no accident.
"I believe prison is a caste system," she said. "The majority of those that go in are black, and I believe that's simply because they are black. The other reason is poverty."
But the United States could be looking at a dramatic shift in its prison system.