The Vatican's Secretary of State attempted to tamp down controversy June 24 over a Vatican diplomatic communication to Italy, saying the Holy See was not trying to block passage of a law that would extend additional protections from discrimination to the LGBT community.
The Vatican has formally opposed a proposed Italian law expanding anti-discrimination protections to the LGBT community, a leading Italian newspaper reported Tuesday. Activists immediately denounced the move as "unprecedented" Vatican meddling in Italy's legislative process.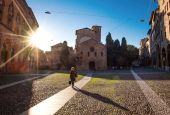 Italy mulled imposing even tighter restrictions on daily life and announced billions in financial relief March 11 to cushion economic shocks from the coronavirus, its latest efforts to adjust to the fast-evolving health crisis that also silenced the usually bustling heart of the Catholic faith, St. Peter's Square.