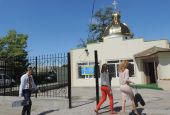 When Anastasia Voinikova joined the local Ukrainian Catholic community more than 20 years ago, liturgies were celebrated at the basement of the Roman Catholic church.
Later, in 2005, the community was able to purchase a private house and reconstruct it into a small chapel, which served as the cathedral for the Odessa Exarchate, which covers huge territory of southern Ukraine and at that time, Crimea.
But about 10,000 Ukrainian Catholics lived in Odessa, and the chapel could not house more than 100 people at a time.
The lives of many Ukrainians switched into emergency mode 18 months ago when riot police brutally beat a peaceful gathering of students protesting in the Ukrainian capital of Kiev against the government's refusal to cement closer ties with the European Union.
In those days, the golden-domed Orthodox St. Michael's Monastery became a shelter for students and that gesture of service became prophetic as the Ukrainian churches stood by the people in what became known among Ukrainians as the Revolution of Dignity.