Perspective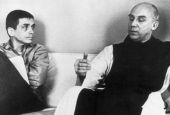 Perspective: Jesuit Fr. Daniel Berrigan wrote in his autobiography: "I lost my aura; more grievously, I lost a home. Henceforth I would be a wanderer on the earth, here and there, an overnight dwelling."
Viewpoint
In his recent book, Toward A True Kinship Of Faiths: How The World's Religions Can Come Together, the Dalai Lama recounts a 1994 visit to Israel during which he asked one of the chief rabbis "what it is that unites Jewish people the world over -- what the kernel of the doctrine is that unites all Jews." He was taken aback by the rabbi's response: "When it comes to doctrine, there is hardly any uniformity. What unites all faithful Jews are the rituals. Come Friday, all Jewish homes, from Siberia to Ethiopia, hold Sabbath in the same manner. We have been doing this for thousands of years, since the destruction of the Temple in Jerusalem."
Not being "a great believer in the efficacy of ritual in its own right," the Dalai Lama was initially surprised by this answer. But he came to understand what ritual means in the context of exile and diaspora: "a particular form of continuity and connection that allows great pluralism of views and beliefs," he said, "while at the same time links people through a shared set of practices and a language ... to a powerful lineage of memory and tradition."