Peter Schurmann is a freelance reporter based in San Francisco and a contributing editor to Ethnic Media Services.
Show full bio ↓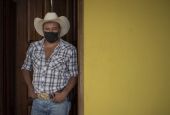 After 12 years as a construction worker in New York, Freddy Murillo is now back and running for mayor of his hometown of Yorito, Honduras, part of upcoming elections in a country marked by poverty, violence and corruption.
When Ana Aceves was 12 years old, she sat on her parents' front porch in Merced, Calif., looked up into the night sky and had an "out-of-body experience." She saw herself on her porch, then her city, state, planet and finally the stars.
It was then she knew exactly what she wanted to do, says the now 23-year-old senior at the University of California, Berkeley. "I ran into the house and told my mom I wanted to be an astrologer," she explained with a loud chuckle.
"I think you mean an astronomer," her mother corrected.