For Jesus' parents, "answering God's call meant their whole lives were turned upside down," not unlike the events of the past year, Los Angeles Archbishop José H. Gomez said Feb. 21 at the close of the all-virtual 2021 Religious Education Congress.
Organized by the Archdiocese of Los Angeles' Office of Life, Justice and Peace, OneLife LA was once again held the same day as — and just blocks away from — the Women's March, a demonstration in favor of a so-called "right" to abortion, which, like OneLife LA, is timed to coincide with the anniversary of the 1973 Roe v. Wade Supreme Court decision legalizing abortion.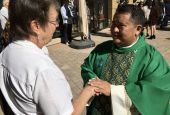 It was the 33rd Sunday in Ordinary Time at St. Kateri Tekakwitha Church in Santa Clarita.