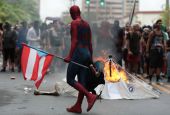 An oversight financial board filed paperwork May 3 to protect the U.S. territory from creditors, allowing Puerto Rico to begin to restructure its $72 billion debt.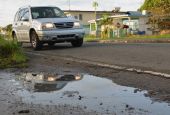 According to the Puerto Rico Health Department, this year the island has had 10,690 confirmed cases of Zika, including 1,035 pregnant women.
Members of several Catholic groups joined representatives of more than 30 organizations for a march to "raise awareness and call to immediate action" to prepare for climate changes "that have started already" in this Caribbean island.
Despite light rain and a severe weather forecast, thousands of marchers gathered April 30 at Cosme Beitia Coliseum for prayer led by the Rev. Heriberto Rodriguez of the Puerto Rico Ecumenical and Interfaith Coalition before a 45-minute walk on a seaside road to Esperanza Park.