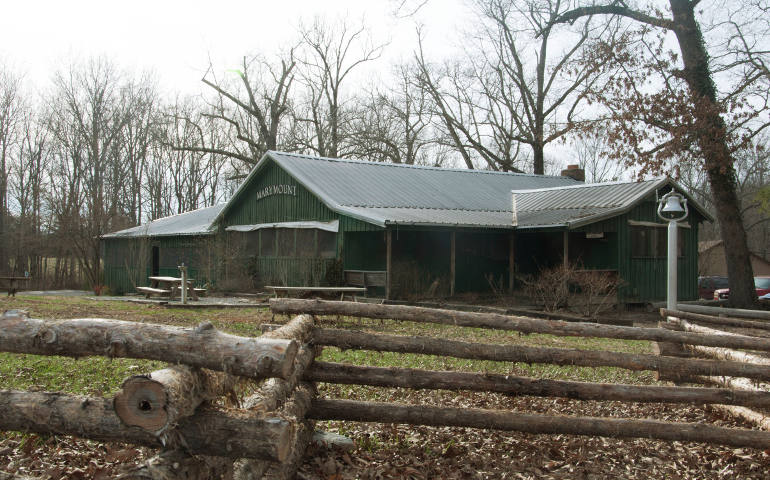 Camp Marymount in Fairview, Tenn., a traditional overnight summer camp in the Diocese of Nashville, is celebrating its 75th anniversary this year. The old lodge sits at the center of camp and is still used for meeting space and activities. (CNS photos/Theresa Laurence, Tennessee Register)
For generations of young people, Camp Marymount in Fairview, has been more than a place to spend a few weeks in the summer. It's where bonds are forged over campfires, craft projects and late-night talks under the stars.
"The thing about camp is it's timeless, it hasn't changed that much," said Jose Gonzalez, former camper and counselor at Camp Marymount, who now sends his children there.
As Camp Marymount celebrates its 75th anniversary this year, its leaders are encouraging former campers and counselors to attend a gala fundraiser at the camp May 2 and a camp reunion family weekend Aug. 8-10.
As the Southeast's only Catholic summer residential camp, Marymount draws campers from Tennessee, surrounding states and even Mexico and Canada. Part of its charm is how it has stayed the same over the years and doesn't have fancy amenities. In fact, camper cabins have no air conditioning or attached bathrooms and the camp doesn't have a swimming pool or indoor gym.
"It doesn't matter where you come from or how much money you have," Gonzalez said, because at camp, everyone is on a level playing field, new to each other, ready to survive and thrive together in the weeks ahead.
At the camp, some new buildings have been added recently, but the rustic, communal living environment -- and most of the activities -- have remained the same for decades.
Camp Marymount's roots reach back to 1939 to Camp Happy Hollow in Joelton, a small Catholic residential camp owned by the Nashville diocese. In the fall of 1945, the late Msgr. George Rohling purchased a fishing camp in Fairview thinking it would be the ideal place for the diocese to expand its summer camp.
When Marymount opened its current location in 1946, it had a small lodge, an infirmary, nine cabins and an outdoor chapel. Two years later, senior camp was added to better accommodate older campers. St. Anthony's Chapel was dedicated in 1951. Then, for more than 50 years, Marymount's buildings remained nearly unchanged.
It was not until 2008 that major renovations and additions were completed at the camp. That year a new dining hall, offices, meeting rooms and winterized staff cabins were added, allowing the camp to operate on a year-round basis by hosting retreats and special events. A new chapel also was added.
Today, Camp Marymount totals 340 acres, 18 rustic camper cabins, four cabins for support staff and retreats, an outdoor amphitheater, nature center and a 5-acre spring fed lake.
Tommy Hagey, who has served as the camp director for 17 years, is a second generation Marymounter. Both of his parents attended camp as have seven of his eight children.
Hagey's mother, Susie Pierini Hagey, remembers spending her summers at Marymount's original incarnation, Camp Happy Hollow. She recalls summers during World War II during which they "ate Spam every day" in the camp dining hall.
"I loved it," she said of the camp. "I still love it. I'd go back now if I wasn't 81," she told the Tennessee Register, diocesan newspaper of Nashville.
In the database of the American Camp Association listing, only 30 of more than 2,400 camp listings meet the criteria of "Roman Catholic" and "overnight."
Marymount's Catholic heritage runs deep. The camp no longer offers daily Mass but a staff director helps campers lead daily prayer services, and diocesan seminarians sometimes spend part of the summer at Marymount. Campers and counselors are traditionally drawn from Catholic schools not only in Nashville, but also from Memphis, New Orleans and elsewhere.
Lisa Rice Farnsworth remembers a large group of girls attending Marymount from her high school, Academy of the Sacred Heart in New Orleans. Now Farnsworth's daughter Meghan is following in her mother's footsteps and attends both Sacred Heart and Camp Marymount.
"I wanted her to love it as much as I did, and I think she does," Farnsworth said.
Caroline Weishaar, a sophomore at Father Ryan High School in Nashville, is getting ready for a five-week stay at Marymount, her last year as a camper. But she will not pack her smartphone home and does not expect to miss it.
Campers are asked to leave all tech devices at home and they do not have access to computers or the Internet during their stay. Good, old-fashioned snail mail is encouraged for correspondence between campers and their families.
Hagey proposed to his wife Margaret in the old Camp Marymount lodge more than 20 years ago. The Hageys, parishioners at St. Henry Church in Nashville, describe the camp as a huge, faith-filled outdoor classroom.
Their children, who range in age from 5 to 20, have spent every summer at Camp Marymount; some of their earliest memories are playing in the mud, catching crawfish, and going for creek hikes.
"It's a humbling experience to live out here. You really appreciate nature," said 18-year-old Mary Kathryn Hagey, a senior at Father Ryan.
Even though the Hageys do not live year-round at Marymount, it is their beloved second home. Their Nashville home may be more spacious, with all the amenities they could want, but the children still hate to leave Marymount and go back to reality.
"I still cry every time I have to leave," Mary Kathryn said.