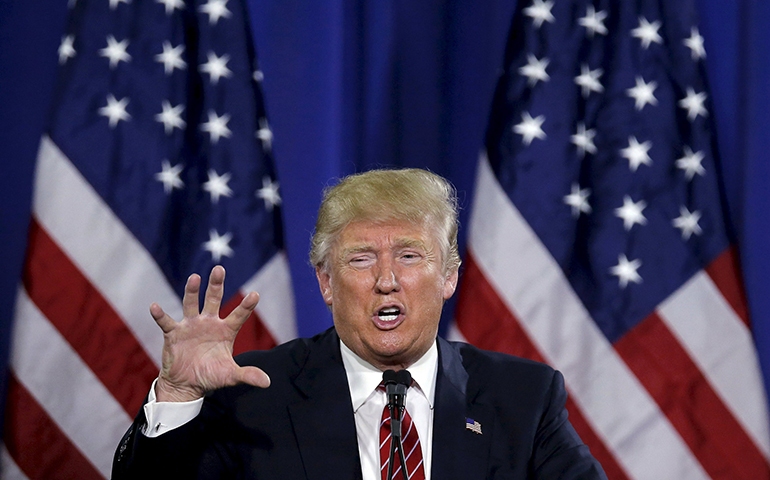 U.S. Republican presidential candidate Donald Trump speaks at a campaign rally in Cadillac, Mich., March 4. (CNS/Jim Young, Reuters)
A certain statistic has been making its way across the internet since it appeared on Nate Silver's blog FiveThirtyEight: if only men voted, GOP candidate Donald Trump would win the election, 350 electoral votes to 188 for Hillary Clinton.
Silver based his electoral map on the gender split in a recent Public Religion Research Institute poll conducted on behalf of The Atlantic. The FiveThirtyEight map doesn't include race in its breakdown, but Trump averages about 2 percent among black voters, and according to the PRRI poll Silver references, "Trump has a huge lead among white men with no college degree, 65-22, but also leads among college-educated white men, who back him at 46 percent to Clinton's 39 percent."
In other words, if white men were the only people who voted, Trump would take all but about a dozen states, or almost 75 percent of the country.
Throughout the vast majority of U.S. history, white men were the only people who voted because they were the only ones who could, and most of them didn't use their right to make laws that would improve life for anyone who wasn't a white man, and preferably, a wealthy white man. Given that our country is structured so that citizens are voiceless in the democratic process without a vote, our history means there was a time when white men had unchecked power.
And now we have a candidate for leadership of the free world who is a wealthy white man and who has said, to a live audience, he could "stand in the middle of Fifth Avenue and shoot somebody," and still not lose any voters; who has bragged, into a hot microphone, that he can sexually assault women, that as a celebrity, women "let" him "do anything"; and who has threatened, during a live town hall debate, to imprison his political opponent upon his victory.
I fear that a time of unchecked power is what most, if not all, of the men supporting Donald Trump want to return to. I don't believe that under a Trump presidency, Congress would reinstitute slavery, nor do I believe the 19th Amendment would be rescinded, as some Trump supporters wish. But I do believe Trump's violent rhetoric and sexually aggressive, hyper-masculine, entitled behavior has given the white men who would vote for him permission to return to openly expressing a craving for power and a sense of entitlement that is dangerous to anyone who isn't a white, heterosexual man, or who doesn't identify as such. I am concerned that, whether they are conscious of it or not, the white men who would vote for Trump have never fully accepted women and people of color as equals, and that this inability to accept equality has spurred resentment at every step of progress people not traditionally in power have made.
I hear you. This is a different era from those times when women couldn't vote, own property or hold credit in their name, you say. This is a different time from when treating black people and other people of color as if they weren't human was the norm, you say. But it isn't. As I was reminded when I watched the documentary 13th, oppression just morphs so that new forms of inequality flourish. For example, race-based oppression has gone from enslavement to convict leasing, from convict leasing to Jim Crow and segregation, from that to jailing people who protested segregation, from there to the Southern Strategy, to the War on Drugs, to the myth of the savage black super-predator, to mass incarceration, to the school-to-prison pipeline, to who knows what next, all in the name of maintaining capitalism and the power of the people who hold the most government offices and the most wealth: white men.
To its credit, the lower-key racism, the dog-whistles of welfare queens and warnings of violent crime on the rise (it's not), feel more comfortable than what I imagine racism and sexism of the past to have been. There is a pleasant sensation of possibility and almost acceptance when you don't fit the mold, when you are educated and successful, when you aren't the criminal. And there is an equally euphoric illusion of safety when one's body is not under constant physical threat. Police shootings and street harassment notwithstanding, I think but don't worry about what might happen to me as I walk between my apartment building and my destination. But the euphoria is an illusion.
Trump's candidacy is not an illusion. Nor is history. Nor is the moment we're in right now, a moment in which we can ask ourselves: What do I really believe about equality? What will life look like come January 2017 for people whose race, sex, gender identity, sexuality or income differ from mine? And do I care?
[Mariam Williams is a Kentucky writer living in Philadelphia and pursuing an MFA in creative writing at Rutgers University-Camden. She is a contributor to the anthology Faithfully Feminist and blogs at RedboneAfropuff.com. Follow her on Twitter: @missmariamw.]
Editor's note: We can send you an email alert every time Mariam Williams' column, At the Intersection, is posted to NCRonline.org. Go to this page and follow directions: Email alert sign-up.