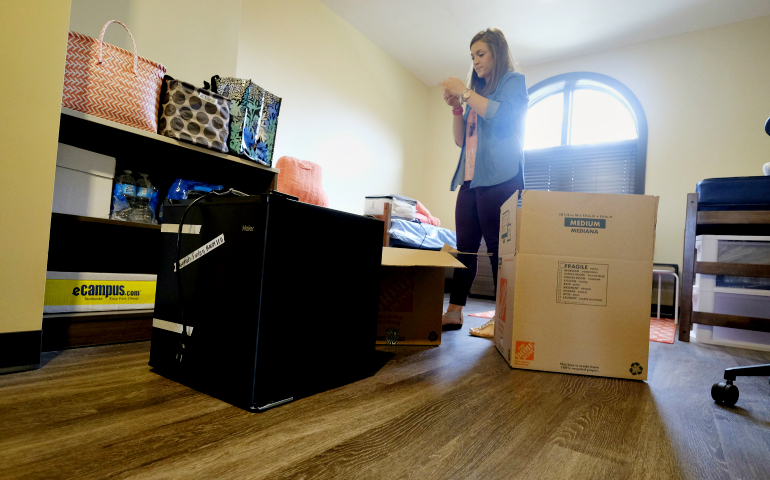 Hannah Finley, a sophomore nursing student from Erin, Tenn., moves into her dorm room Sept. 30 at Aquinas College in Nashville, Tenn. (CNS/Tennessee Register/Rick Musacchio)
Nashville, Tennessee — As of fall 2017, Aquinas College will only offer degree programs in education, closing the programs in nursing, business and the arts and sciences.
According to the Tennessee Register, the changes mean about 60 faculty will lose their jobs and approximately 140 students will have to transfer to other colleges. In addition, the college will no longer offer residential services or student life programming.
Aquinas, which is owned and operated by the Dominican Sisters of St. Cecilia in Nashville, has been struggling with financial issues, low enrollment and a small endowment in recent years. According to the school's website, 344 students are enrolled as of fall 2016. Endowment is currently at $5 million.
---
New York — Schools, places of worship and civic groups in the metropolitan New York area participate in Midnight Runs year-round to distribute food, clothes and personal care items directly to the homeless in New York City. According to Midnight Run's website, volunteers complete more than 1,000 relief missions per year through the organization.
Catholic schools are part of the consortium, including St. John's University in Queens and Felician University in Rutherford, New Jersey. However, proselytizing is prohibited.
St. John's website says the Midnight Run program is one of the school's most popular service opportunities. Members of the university community are scheduled to participate several times this semester.
During the Lenten season, Felician's campus ministry will host a Midnight Run event March 31.
According to the school's event page, items most needed are sweaters, hoodies, gloves, warm hats, socks, jeans, new underwear for men, toothpaste, toothbrushes, deodorant, shampoo and small packs of tissues.
---
Long Island City, New York — A 90-minute play about lesbian, gay, bisexual and transgender Catholics will make its debut at the Rough Draft Festival at LaGuardia Performing Arts Center in Long Island City March 24, 25 and 27.
The new play, titled "Full of Grace: Journeys of LGBT Catholics," tells the real accounts of more than 30 LGBT clergy, religious and laypeople from across the United States, including college students, terminated church employees, and closeted priests and nuns.
The play's website says "Full of Grace" is dedicated to the late Auxiliary Bishop Joseph Sullivan of Brooklyn, New York, who commissioned it in 2012 "to provide a space for listening and openness and to encourage a dialogue about sexual identity and faith." Sullivan convened the diocese's Ad Hoc Committee on the Pastoral Care of Gays and Lesbians and Their Families for a decade before he died in 2013.
Robert Choiniere and Scott Barrow, the play's creators, held readings of the play at Fordham University and during the World Meeting of Families in Philadelphia. Choiniere is currently a doctoral student at Fordham and holds degrees from Boston College and DeSales University. He said in an email to NCR that he and Barrow hope "Full of Grace" will tour Catholic colleges around the country to promote dialogue about faith and sexual identity among campus communities.
---
Shawnee, Oklahoma — Michael Scaperlanda will be sworn in as St. Gregory's University's new president during an inaugural ceremony taking place in the Don and Jenetta Sumner Fieldhouse March 21.
According to daily newspaper The Norman Transcript, Scaperlanda practiced law in Texas and Washington, D.C. before serving numerous academic and administrative roles for the University of Oklahoma. He currently serves as a scholar participant in the Fr. Stanley Rother Hispanic Cultural Institute of Oklahoma City and Norman.
---
Pittsburgh — From July 17 to Aug. 4, La Roche College's Clergy and Religious Summer English Institute will offer English and cultural immersion courses to international priests and religious who have been assigned to work in American parishes. According to a press release, the program aims to help the priests and religious gain these competencies in a low-stress environment before they assume their new roles in the United States.
The press release said the curriculum will focus on writing and delivering homilies, etiquette in various social situations, and instruction on American communication norms, including verbal and nonverbal messages and colloquialisms.
Deadline registration is June 2. For more information and to apply online, visit laroche.edu/clergy.
---
Washington — Stephen Schneck announced in an email to colleagues and friends dated March 15 that he will step down as director of the Institute for Policy Research & Catholic Studies and retire early from his position as department chair and professor of the Department of Politics at the Catholic University of America, citing personal reasons.
"I am grateful for having had the opportunity to serve The Catholic University of America as the Institute's director for twelve years and am proud of the many good works of the Institute in advancing a Catholic social thought perspective in American public life and policy-making," Schneck said in the email.
---
Sacramento, California — California lawmakers have proposed a college aid plan that would cover tuition and living expenses for nearly 400,000 students in the University of California and California State University systems. The plan would also make the first year of community college tuition-free for full-time students.
The Los Angeles Times reports this plan would be the most generous of its kind in the country.
The Los Angeles Times article also reports students still would have access to Pell Grants, state programs and university grants, though they would be expected to work part-time year-round.
According to California State University's website, on-campus tuition plus fees for in-state students currently ranges from $19,731 to $27,430 per year, depending on the individual campus. There are 23 campuses in the California State system. The University of California system consists of 10 campuses and tuition plus fees are estimated at $34,200 for in-state students. That number is almost double for non-California residents.
[Shireen Korkzan is an NCR Bertelsen intern.]