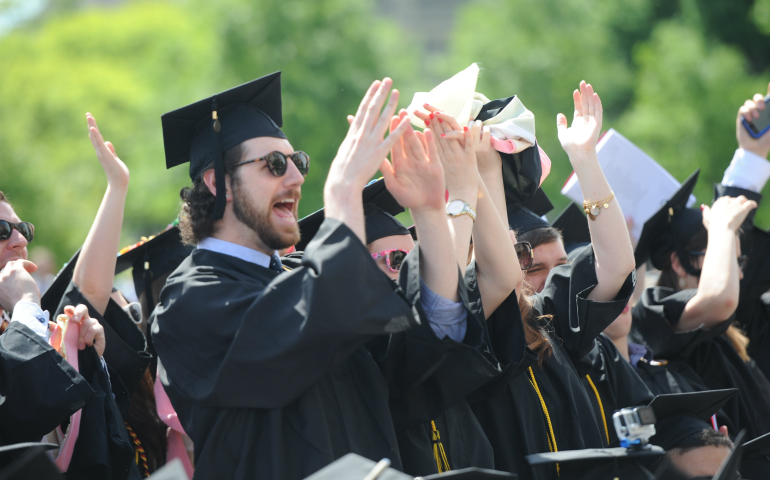 Graduates celebrate during The Catholic University of America's 127th annual commencement May 2016 outside the Basilica of the National Shrine of the Immaculate Conception in Washington. (CNS/Dana Rene Bowler, CUA)
As colleges and universities across the country wind down the school year, a number of Catholic institutions have made headlines with their choice of commencement speakers.
Most notable is University of Notre Dame inviting Vice President Mike Pence to speak at its commencement ceremony May 21. The university is known for its longstanding tradition of inviting the new sitting president to speak at its spring commencement ceremony, dating back to President Dwight Eisenhower. This time, however Notre Dame invited the vice president instead because inviting President Donald Trump would be a bigger "political circus" than when President Barack Obama spoke in 2009, according to an interview Holy Cross Fr. John Jenkins, president of Notre Dame, gave with the school's student newspaper, The Observer. Pence is the former governor of Indiana, where Notre Dame is located.
Notre Dame will also honor Jesuit Fr. Gregory Boyle with the university's highest honor, the Laetare Medal, at the ceremony. Boyle, the founder of Homeboy Industries, was this year's commencement speaker at Regis University in Denver on May 6.
Just two hours southwest of Notre Dame, St. Joseph's College in Rensselaer, Indiana, celebrated what may be its final commencement ceremony on May 6. The Missionaries of the Precious Blood-founded school plans to suspend operations for at least two years starting June 1 because of "dwindling financial resources." Fr. Bill Nordenbrock, the Moderator General of the Missionaries of the Precious Blood and a St. Joseph's alumnus, was the school's commencement speaker.
Pulitzer Prize-winning writer Peggy Noonan, speech writer and special assistant to President Ronald Reagan, will speak at the Catholic University of America on May 13. She is the author of several books, including a biography of St. John Paul II that was published in 2005.
Cardinal Timothy Dolan, archbishop of New York, will speak at the University of St. Thomas' commencement on May 20.
Several speakers are lined up for Georgetown University's commencement ceremonies May 18-21, including Nate Silver, editor-in-chief of FiveThirtyEight, and Greg Coleman, president of Buzzfeed.
Archbishop Wilton Gregory of the Atlanta Archdiocese will speak at the University of Dallas' ceremony on May 14. Gregory was the first African-American president of the U.S. bishops' conference, serving from 2001 to 2004.
San Diego Bishop Robert McElroy and Regina Benjamin, U.S. surgeon general under the Obama administration, are among five people who are scheduled to speak at University of San Francisco's commencement ceremonies May 18-20.
Michael Bloomberg, former mayor of New York and founder of Bloomberg L.P. and World Health Organization Global Ambassador for Noncommunicable Diseases, will speak at Villanova University's commencement ceremony May 19.
Composer John Corigliano and children's author Sharon Draper will be among seven commencement speakers at DePaul University's ceremonies May 14 and June 10-11.
At the Franciscan University of Steubenville commencement ceremonies May 12 and 13, Rev. David Zubik will celebrate and speak at the baccalaureate, and Patrick Lencioni and Ryan Anderson are speaking at the science and arts commencements, respectively.*
Joseph Donnelly, permanent delegate to Caritas Internationalis, will speak at Misericordia University's graduate commencement ceremony. Francis Campbell, vice chancellor of St. Mary's University, Twickenham, England, and former British diplomat and ambassador to the Holy See for Her Majesty, will speak at the undergraduate commencement. Both ceremonies will take place May 20.
This is only a short list of commencement speakers at Catholic colleges and universities across the country.
Congratulations, class of 2017!
* Editor's note: An earlier version of this article stated the 2016 speakers for Franciscan University of Steubenville.
[Shireen Korkzan is an NCR Bertelsen intern. Her email address is skorkzan@ncronline.org.]​