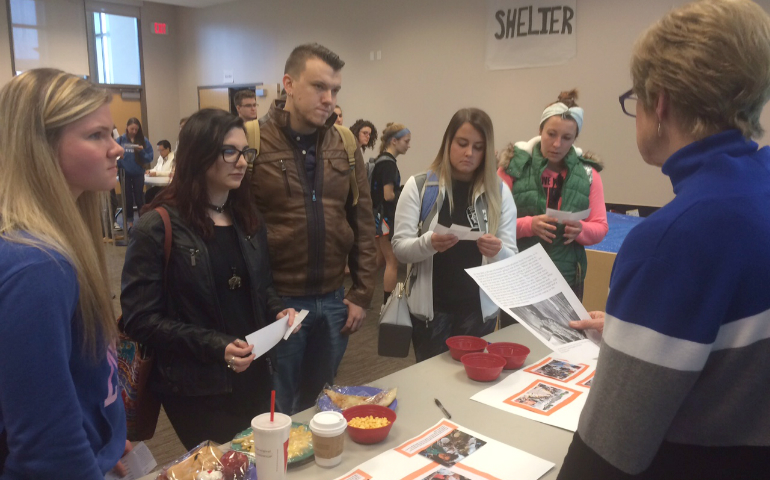 Participants at Misericordia University's exhibit learn about typical diets of people who are refugees. (Courtesy of Misericordia University campus ministry)
---
Philadelphia — March 5 marks the 50th anniversary of St. Joseph's University's Institute for Jewish-Catholic Relations.
The university's website claims the institute is "the country's first academic organization devoted to Jewish-Catholic relations in response to Vatican II's" Nostra Aetate, a document published in 1967 pertaining to the church's relationship with non-Christian religions, especially Judaism.
To celebrate the institute's golden anniversary, St. Joseph's will recreate its inaugural meeting March 5 in McShain Hall, according to the university's website. Guest speakers will include Fr. Dennis McManus, consultant for Jewish affairs for the U.S. bishops and professor at Georgetown University, and Rabbi James Rudin, senior interreligious adviser for the American Jewish Committee.
---
Dallas, Pa. — The Jesuit Refugee Service developed the "Walk A Mile in My Shoes" exhibit at Misericordia University for students to gain a better understanding of life as a refugee, according to an article in The Citizens' Voice newspaper.
Each participant was given an identity card with a country of origin and background story. They had to move to six different stations "simulating the search for shelter, food, water, medicine and education. Along the way, they run into some of the same problems refugees face."
Some of these problems include consuming no more than 1,300 calories a day and having very limited resources for a classroom, often times having only one pencil for an entire class of students, for example.
Other simulations included sitting in a small shelter typical of what people live in at refugee camps. According to the Global Friends Coalition, refugees sometimes have to stay in these camps for as long as 20 years until they either can move back to their home country safely or get resettled in another country. In the shelter simulation, students had to squeeze into a tiny makeshift shelter. Bilal Allouz, a Syrian refugee who now lives in Kingston, Pa., greeted them in the shelter and told his story.
The exhibit ended at the advocacy station, where students could learn more about the plight of refugees with the hope they would be inspired to motivate elected officials to adopt policies that aren't "driven by fear." Students had to answer three questions: What did you learn about yourself? What did you learn about refugees? What can you do to help refugees?

Participants read about refugees' life stories. (Misericordia University)
Christine Somers, director of Misericordia University's campus ministry, estimates 100-120 students participated in the simulations. She told NCR the university and local community have been helping three families of refugees get settled in their new homes and lifestyle since fall 2015. According to Somers, members of the Religious Sisters of Mercy, who founded the university in 1942, have also been helping to take care of the refugee families in the area.
---
Caldwell, N.J. — Caldwell University's department of theology and philosophy will host a forum on water pipelines March 6 in the Alumni Theatre on campus. The event is part of the department's Sister Maura Campbell lecture series, according to a press release from the university.
Author and activist Anny Martinez will talk about "Action to Encourage Interfaith & Environmental Dialogue: How Do Pipelines Affect Our Water."
The forum is free and open to the public.
---
Moraga, Calif. — Mahershala Ali became the first Muslim person to win an acting Oscar at the 89th Academy Awards on Feb. 26 for his supporting role in "Moonlight," but his acting career started when he went to a Catholic college.

Alex Hibbert and Mahershala Ali star in a scene from "Moonlight." (CNS photo/A24)
Ali graduated with a degree in communications from St. Mary's College of California in 1996. NBC Sports reports he also played basketball all four years on a scholarship. Ali developed an interest in acting when he starred in the school's production of "Spunk" his senior year, according to St. Mary's website. Since then, Ali has starred in several box office hits, including "Hidden Figures" and "The Hunger Games: Mockingjay – Parts 1 and 2." He was St. Mary's commencement speaker in 2016.
"I had so many wonderful teachers, and one thing that they consistently told me … was that it wasn't about you," he said in his acceptance speech at the Academy Awards. "It's not about you. It's about these characters. You're a service to these stories and these characters."
[Shireen Korkzan is an NCR Bertelsen intern.]