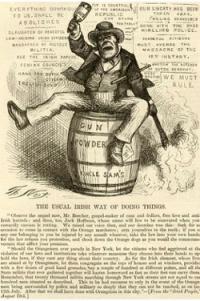 From the Wall Street Journal:
Thomas Nast, whose antislavery political cartoons propelled him to notoriety in the 19th century, has ignited another uproar: whether his anti-Irish and -Catholic drawings should disqualify him from the New Jersey Hall of Fame.

Irish and Catholic groups are waging a campaign against including the father of the American political cartoon in that group of notable New Jerseyans, arguing that he routinely depicted them in an unfavorable light.

"He portrayed the Irish as drunken apes, and the image still remains today. We have a lot to offer beyond that," said Sean Pender, president of the New Jersey Ancient Order of Hibernians, a fraternal group with 2,500 members that is campaigning against Nast's nomination. The Knights of Columbus in New Jersey has also joined the cause.

Mr. Pender pointed to "The Usual Irish Way of Doing Things," a cartoon by Nast that shows a drunken Irishman lighting a powder keg. Another, "The American River Ganges," depicts Catholic bishops as crocodiles trying to attack schoolchildren.
Advertisement