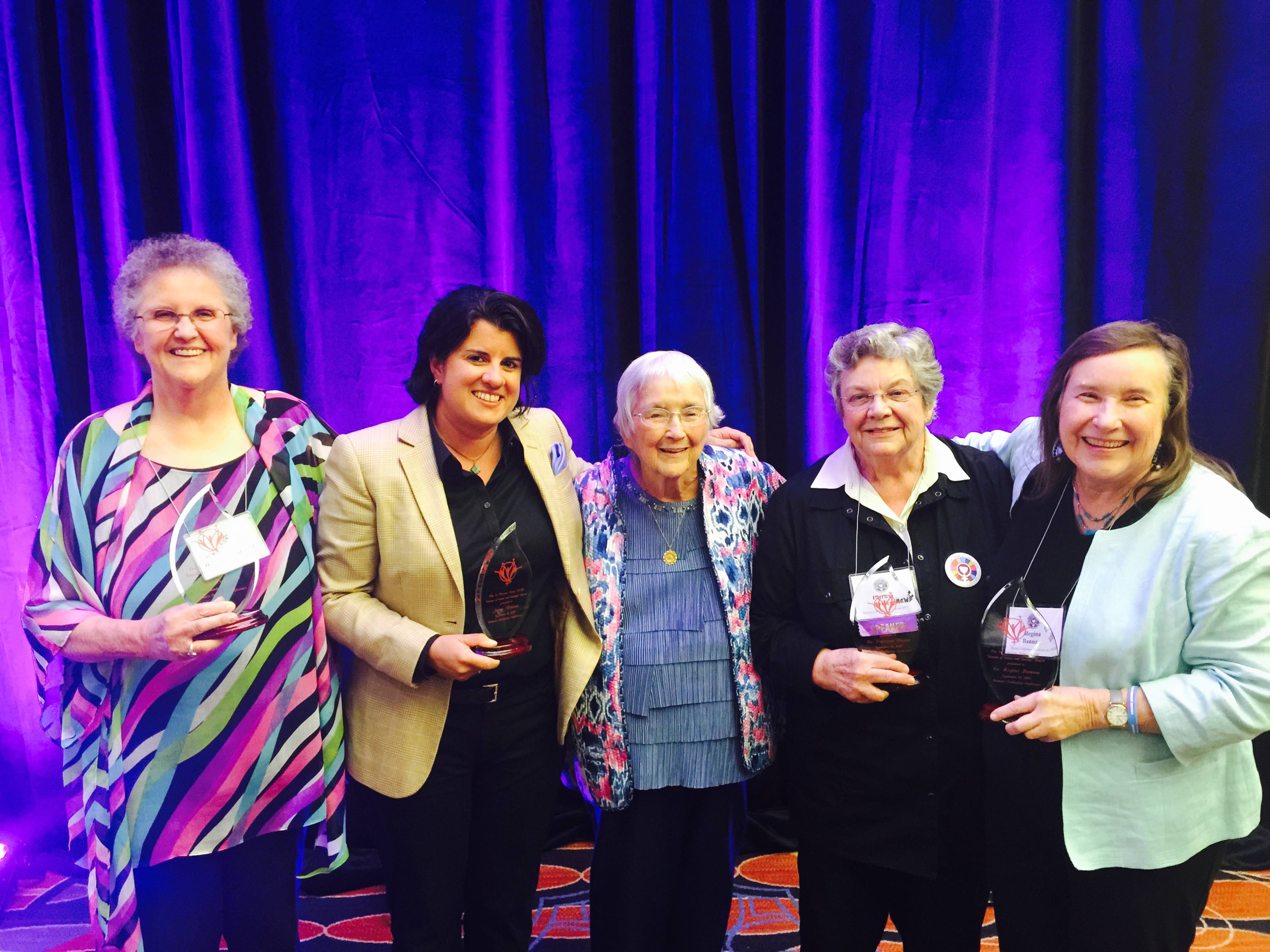 Judy Heffernan, Jamie Manson, Theresa Kane, Patricia Fresen, Regina Bannan (Photo by Kimberly Ritter)
Philadelphia — September 18, 2015
The Women's Ordination Worldwide conference Friday evening singled out four women, honoring them with the inaugural "Theresa Kane Woman of Vision and Courage Awards". The awards were given to Patricia Fresen, Jamie Manson, and two local Philadelphia women, Regina Bannan and Judy Heffernan.
WOW asked its members for nominations of women who, "Like Theresa Kane, prophetically live out their visions of an inclusive, equal and just Roman Catholic Church."
Patricia Fresen, a former Dominican sister from South Africa, with a Ph.D. in theology ... lived through apartheid and was arrested for admitting black students into her school. She is one of RCWP's bishops (the third one, but the first in the English-speaking world) and basically most RCWP priests in the U.S. "stem" from Patricia.
Jamie Manson is an NCR columnist and NCR books editor. She received her Master of Divinity degree from Yale Divinity School, where she studied Catholic theology and sexual ethics. She is editor of Changing the Questions: Explorations in Christian Ethics, a collection of writings by Margaret Farley (Orbis, 2015).
Regina Bannan is former Temple University professor and former president of WOC. She is part of a branch of WOC, Southeastern Pennsylvania WOC (SEPAWOC). She has been involved in WOC since 1984.
Judy Heffernan is a member of SEPAWOC and attended the first WOC conference and was friends with early WOC organizer Mary B. Lynch. She and Mary applied for divinity school around the same time and were both some of the first women to do so in the U.S. She was ordained by her community in 1980, and used to celebrate mass outside the Philadelphia cathedral in a nearby park.
WOW also honored WOC Executive co-directors Erin Hanna and Kate McElwee with plaques, thanking them for their "tireless" energy in organization the gathering. The two women also received gratitude plaque citations from SEPAWOC
[Fox is NCR publisher and director of Global Sisters Report. He can be followed on Twitter @NCRTomFox and reached on email at tfox@ncronline.org.]