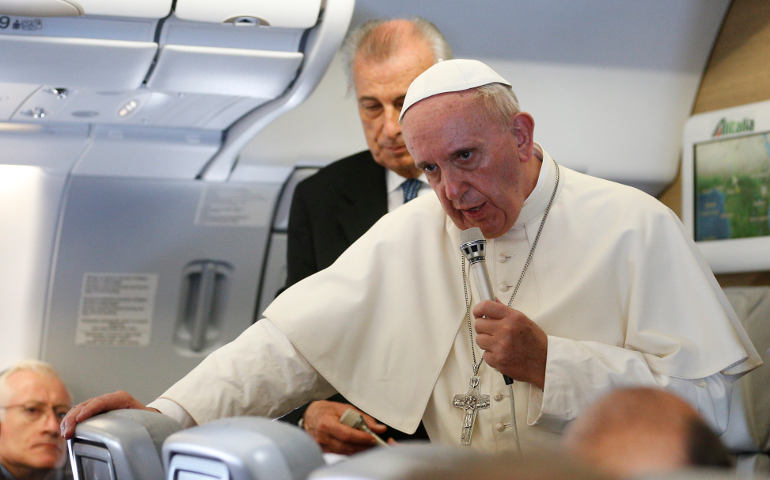 Pope Francis and journalists fly back to Rome from Africa Nov. 30. (CNS/Paul Haring)
On the trip home from his recent visit to Africa, Pope Francis had one of his now-expected freewheeling conversations with members of the media. At one point he was asked by a reporter if the church should consider changing its prohibition regarding the use of artificial contraception – particularly the use of condoms – given the ongoing problem of the spread of HIV/AIDS in Africa.
It was a fair if tough question, given that the pope had just visited desperately poor and conflicted areas in Kenya, Uganda and Central African Republic. It can be assumed that reporters on the plane knew that Africa is the continent most devastated by the disease, with about 25 million people living with HIV and the number growing constantly. The seeming hypocrisy of a church so dedicated to protecting life apparently willing to see adults die but for the use of a condom is justification for the query.
Francis could have answered any number of ways – dismissively, unyielding on the teaching, certainly defensively considering the enormous witness of care and compassion the church exhibits throughout the continent. He chose to go in a rather surprising direction.
"The question seems too small to me," Francis responded. "It seems to me also like a partial question."
"The morality of the church is found on this point, I think, in front of a perplexity," he said. "Fifth or Sixth commandment? Defend life, or that sexual relations be open to life? This is not the problem. The problem is bigger."
His response stunned
I found the response stunning, in a very good way. A pope admitting that the church's view of morality finds itself "in front of a perplexity," caught between commandments, as it were, and the questions of whether life is to be defended or the requirement that sexual relations be open to life in every circumstance upheld without exception.
That alone would have made it, in my estimation, a papal response unique in my lifetime, a papal response, in a conversational circumstance, admitting that the church might be caught in a difficult situation, that absolute certitude about a sexual issue might not provide the unassailable answer.
However, he went well beyond that admission, essentially climbing inside one of those parables that demonstrate what Jesus meant when he said he did not come to destroy the law but to fulfill it.
"This question makes me think of what they asked Jesus one time: 'Tell me, master, is it licit to heal on the Sabbath?'" Francis continued.
"Malnutrition, exploitation of persons, slave work, lack of drinking water," he said. "These are the problems."
"I do not like to descend into reflections that are so casuistic when people are dying," he continued. "I would say to not think if it is licit or not licit to heal on the Sabbath. I say to humanity: Make justice, and when all are healed, when there is not injustice in this world, we can speak of the Sabbath."
I think it can be presumed that by stating he does not like to "descend" into casuistic discussions, especially when people are dying, that he is using that term in the pejorative sense. A telling point, especially for a Jesuit. Francis won't be drawn into endless discussions about condoms and the application of a solution that will peg him as one who either upholds or breaks the law, with the determination of his fitness as a Christian leader in the balance.
A question too small
The question is too small. Would it be correct to say, perhaps, that the question was also not human enough for him? That it reduced one's humanity to a single act?
In the Gospel of Matthew, Jesus' encounter with the question of whether one can heal on the Sabbath is preceded by the scene in which others try to catch him in the law when they see his disciples, hungry, picking grain in the field and eating it on the Sabbath. In that instance, Jesus responds by first citing precedent and then explaining, "And if you had understood the meaning of the words: What I want is mercy, not sacrifice, you would not have condemned the blameless."
Scripture scholar Fr. Raymond Brown, writing of this section of Matthew, says, "The controversies end on an ominous note with the Pharisees planning to destroy Jesus."
The tight scenes in Matthew with the direct back-and-forth between Jesus and the Temple's guardians of the law provide an intense lesson on how disturbing can be an invitation to the kind of freedom that leads with mercy.
Examining the same scenes in his marvelous little book, The Choice to be Human, Eugene Kennedy wrote: "Jesus lances the swollen infection of religious practice that has lost its soul and doesn't know it, that, one feels, still does not understand it twenty resistant centuries later."
Francis on the plane offers but the latest of numerous examples of the pope inviting us, and especially his bishops and priests who minister, to a degree of freedom that is frightening in its personal implications and dangerous in its disturbance of legal order.
Jesus, time and again, frees his disciples to place human need before the demands of the law. Regarding healing the man on the Sabbath, writes Kennedy, "Jesus' answer is good Jewish common sense, very human, resonating with an understanding of the way in which people actually behave."
Of course the questioners would rescue a sheep that stumbled into a pit on the Sabbath. If that is the case, how could he not heal a human? Kennedy imagines his disciples grateful that Jesus defends them so decisively. "They sense that Jesus has drawn a line in the dust that divides the religious world in which they live, that they have crossed it with him, and that they are being watched by those who, angry and determined, remain on its farther side."
There is a peculiarly Jesuit way of walking into a scene of scripture and observing, of allowing he questions and truths of that era to penetrate through to current realities. That's what Francis seemed to be doing on the plane, walking into the parable of the healing on the Sabbath and claiming that this was the story of our time. Was the law and all it represented actually going to stand or fall on the healing of one man's withered arm, or was that too small a question? Is God more desirous of mercy or sacrifice?
Yet it must be recognized that Francis's answer, much like that of Jesus, leaves at least a faint trail of ambiguity. What do we do? Where is the clarity? Perhaps the answer is that in some circumstances clarity yields to the kind of ambiguity that is inherent in human endeavor. Christianity, after all, is not an engineering project. An answer might lie in the response Francis gave to the Lutheran woman last month who told the pope of the pain of going to her husband's Catholic church and being unable to join in the Eucharist. Francis emphasized that Lutheran and Catholic claimed the same Baptism. " 'One faith, one baptism, one Lord,' Paul tells us. From there, grab hold of the consequences," said Francis. "I will not ever dare to give permission to do this because it is not my competence," he added. "One baptism, one Lord, one faith. Speak with the Lord and go forward. I do not dare to say more."
Changing metaphors
Francis is changing the metaphor for the community, from an encampment with rigid and guarded boundaries -- a refuge from the world where evangelism is an organized and structured enterprise -- to a people on journey. In the latter case, the boundaries become less distinct, the wish to either accompany or to invite the other to walk along is less dependent on the answers to catechism questions and motivated more by relationship and sharing God's love. The latter case is messier, less predictable, more open to divine surprise. The model need not be either/or. But having been through several decades of inflexible border patrols and demands that everyone's paperwork be in perfect order, the community is long overdue for a bit of stretching and wandering.
In the conversation on the plane from Africa, Francis seemed to suggest that his bishops and priests could either contend with the small question of whether condoms were allowed and thus deal endlessly with the casuistry such a desperate circumstance might inspire. Or they could look to much larger questions, systemic matters of gross injustice, of people dying of malnutrition and lack of water, lashed to a lifetime of slave labor. It is not a matter of changing teaching, but giving the teaching, the law, its proper place.
When those problems are solved, when justice is done, justice born of mercy, then — and how many lifetimes will that take? — then we can talk about the Sabbath.
[Tom Roberts is NCR editor at large. His email address is troberts@ncronline.org.]