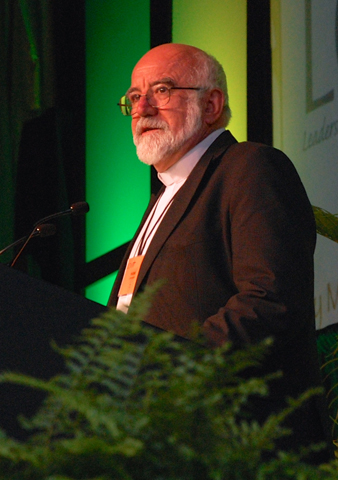 Fr. Hank Lemoncelli speaks Tuesday to members of the Leadership Conference of Women Religious at the welcoming ceremony for the group's annual assembly in Nashville, Tenn. (Dan Stockman)
Nashville, Tenn. — August 13, 2014
Oblate Fr. Hank Lemoncelli, an undersecretary from the Congregation for Institutes of Consecrated Life and Societies of Apostolic Life, presented U.S. women religious with a series of questions the Vatican is asking all religious congregations, male and female, to reflect on over the next year.
In November, Pope Francis called for a special yearlong focus on consecrated life, asking the church's religious sisters, brothers and priests to "wake up the world" with their testimony of faith, holiness and hope.
The Year for Consecrated Life is to run for a year beginning with Advent in 2015.
The Vatican's congregation for religious developed eight questions, which it is sharing with religious throughout the world as a guide for reflection.
Lemoncelli presented the questions to the Leadership Conference of Women Religious during the welcoming ceremony of the group's annual assembly, which is meeting Aug. 12-15 in Nashville, Tenn.
Presenting the questions, Lemocelli told the audience of about 800 sisters that he hoped the questions would "serve as points of reflection for you and for the members of your communities during the Year of Consecrated Life."
The questions are:
At what point are we ... to return to the source of every form of Christian life and to the founding charisms of our institutes?
Are our institutes adapting in an evangelical way to changing conditions?
Is following Christ, as taught by the Gospels, the fundamental norm?
Are we faithfully observing the spirit and names of our founders and foundresses so as to preserve their charism?
Is Sentire Cum Ecclesia, linking with the church, a strong feature of our institute? Are we seeking to realize the goals of the church in biblical, liturgical, dogmatic, pastoral, missionary and social fields?
Are all members of our institute made aware of the condition of our times and the needs of the church in such a way as to awaken in them the commitment to living in community with others, animated by a spirit of faith and ardent apostolic zeal?
Is each member of our community loved personally, taking into account their physical, spiritual, psychological and cultural conditions?
Are obedience and authority dimensions of a life true fraternity amongst us, or do they remain instruments of power and enslavement, perhaps disguised by unhealthy spirituality?
Cardinal João Braz de Aviz, prefect of the Congregation for Institutes of Consecrated Life and Societies of Apostolic Life, presented the same list of questions to the annual assembly of the Conference of Major Superiors of Men, which met Aug. 6-9 in Pittsburgh.
MORE: All stories from the LCWR 2014 assembly
[Dawn Cherie Araujo is a staff writer for Global Sisters Report. Her email address is daraujo@ncronline.org. Follow her on Twitter: @Dawn_Cherie.]